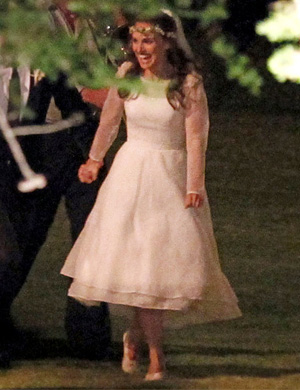 This past weekend, Natalie Portman married baby-daddy and "Black Swan" co-star, ballet dancer, Benjamin Millepied, at a private ceremony in California's Big Sur.
The bride wore Rodarte despite having been synonymous with other famous brands as the face of Dior and muse for Zac Posen.
For the 31-year-old actress, whose celebrity has been significant since grade school, it is certain she was not at a loss for choices when it came to her wedding gown.
Of all the fashionable reasons to choose the innovative and youthful brand, the choice for Rodarte makes a lot of sentimental sense. Portman has often been seen on the red carpet in Rodarte, even including a dress from their off-the-rack Target collaboration. But Rodarte also designed the now-iconic Black Swan tutu, which Portman wore in her Oscar-winning performance as she danced with her now-husband.
The dress itself was a demure little frock, a tea-length, a-line cut dress with sheer sleeves that covered the Portman's arms for the traditional Jewish ceremony. Though her gown was simple and conservative, Portman added a bohemian touch, a playful floral crown.
---

Sinta Jimenez is currently obsessed with Opening Ceremony collaborations, Band of Outsiders, warabi mochi from Temari Cafe, meteor showers, and finding a Jeff Buckley soul with a Jason Segel sense of humor.
All author posts