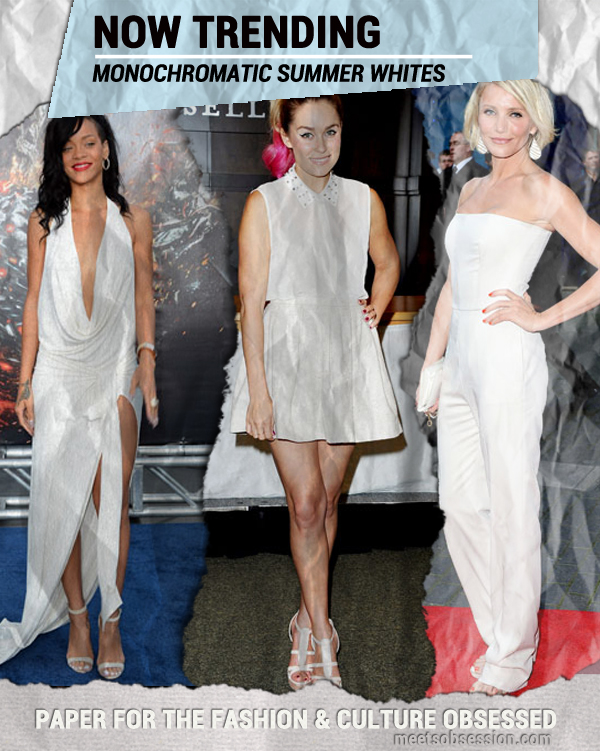 Photo from left to right: Rihanna, Lauren Conrad, Cameron Diaz
As summer steadily makes its way closer, you might be evaluating your closet and deciding on what looks will make the transitional cut, or new addition.
Staying with the bold and bright color trend, an obvious choice would be in keeping (or adding) neon and summer brights to your wardrobe, or even neutral tones.
However, a look that demands your attention is the quintessential summer outfit: monochromatic, crisp summer whites.
Pop diva Rihanna was recently spotted at the "Battleship" premiere, where she pulled off an all-white look consisting of a draped Adam Selman dress paired with white Manolo Blahniks. Her outfit proved that white, if worn right, can be extremely sexy and powerful.
Actress Cameron Diaz dazzled in her simple Stella McCartney all-white jumpsuit that she wore at Cannes, and starlets such as Lauren Conrad, Kirsten Dunst and Lana Del Ray have also recently been successfully sporting all-white looks.
The good news is that you don't have to be a size two to make this look work for you.
Wearing a monochromatic all-white ensemble is a simple, sharp look that practically anyone can pull off, not to mention that your skin will thank you for wearing this color (whose skin doesn't look good while wearing white?).
So, when looking to fill in your summer wardrobe gaps, think about white; there is plenty of time before Labor Day.
[divider]
Photo Credits: Rihanna (Getty) Cameron Diaz (Rex), Lauren Conrad (AXELLE/BAUER-GRIFFIN.COM)
---

Audrey is currently obsessed with humorous puns, Erte, Thursday nights on NBC, and scrolling through couture millinery websites..
All author posts