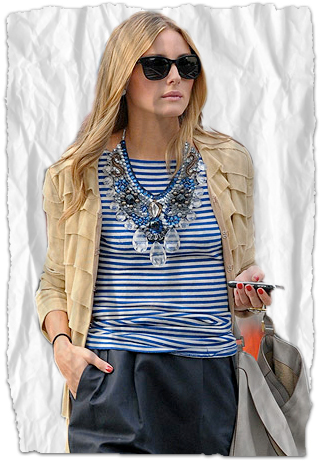 Already a front-row RSVP, model, former reality star, blogger, socialite and Meets Obsession "Best Dressed" constant, Olivia Palermo is said to be stepping up her fashion game in a big way.
Palermo is rumored to have trademarked her name earlier this year with the US Patent Office for a variety of fashionable goods including accessories and dog clothing.
So far, plans for Olivia Palermo designs appear confined to accessories and small goods.
The official word from the Palermo camp is that no accessories line yet exists, but in a September 2011 interview with Fab Sugar during New York Fashion Week, Palermo said, "Yes I get this question a lot, designing will happen!"
With market saturation of so many ready to wear celebrity lines, an accessories line may be a cool and exclusive way of embodying Palermo's signature style heavy on accessories for covet worthy consumption.
The success of Erin Wasson's Low Luv collaboration and the initial launch of House of Harlow before Nicole Richie's clothing line Winter Kate, are all examples of successful celebrity accessory lines.
Tags:
Olivia Palermo