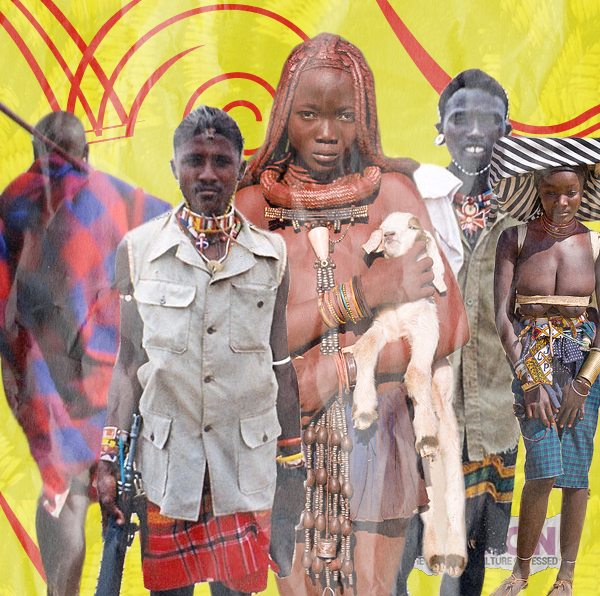 From left to right: Maasai man, Samburu warrior, Muchimba Girl (credit: Alfred Weidinger),
Samburu warrior, Muchimba Girl (credit: Alfred Weidinger)
From Zebra stripes to indigenous art, and bright, tribal textiles, the continent of Africa remains a strong inspiration among fashion collections year-after-year.
| | |
| --- | --- |
| | |
| Left to right: Bernhard Willhelm S/S 2012, Michael Kors S/S 2012 | |
With last year's resurgence of tribal prints, African textiles have been in the spotlight, and now, African countries like Botswana, Ghana, Nigeria and Uganda, known more for their conflicts, are getting attention for their textiles and craftwork.
The continent, deemed one of the most beautiful in the world by some, is rich in diversity and the culture of its people. The fashion worn in Africa is synonymous with its lush landscape of brilliant, bright colors of yellows, oranges, and deep reds, and the animals found on this continent are some of the most exotic in the world.
Among those taking notice, include L'UomoVogue, who recently launched an all-Africa May issue that was full of colorful, bright, glamorous photos—a contrast to how Africa is usually portrayed.
Louis Vuitton presented a Summer/Spring 2012 collection inspired by the iconic red and purple-blue shuka that is worn by East Africa's Maasai, and Sass & Bide, Michael Kors and Bernhard Willhelm all presented collections that gave enthusiastic nods to the vibrant continent.
This summer finds a copiousness of  fashion options inspired by the vibrant, rich textiles and indigenous art of the continent.
Be sure to take a look at some of our favorite fashion finds below, which capture the spirit, raw beauty and vibrancy of one of the most beautiful lands in the world.