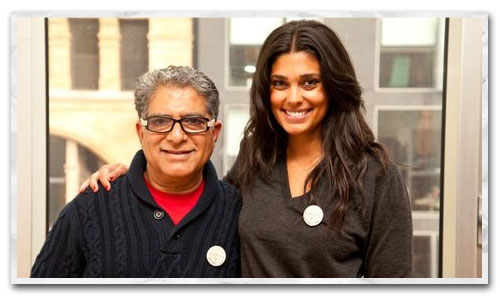 Photo courtesy of ahalife.com
In a time of when tweeting is the new way to form friendships, designer Rachel Roy and spiritual guru Deepak Chopra are not excluded.  As the result of  receiving a tweet by Roy, Chopra has partnered with the designer to launch a collaborative line of fashion inspirational t-shirts.
According to InStyle, after having previously worked with New York Knick Amar'e Stoudemire and British singer Estelle, for Roy's next celebrity collaborator, she reached out to her "Madonna," Deepak Chopra, via Twitter.
This celebrity collaboration isn't like the past sportswear and jewelry commercial lines Roy did for Macy's—this line of inspirational shirts will have a vintage rock and roll edge, but instead of an album name, it will feature some of Deepak's most inspirational quotes.
The line up isn't finalized yet, and it may have a jewelry collection alongside it. And if you're already excited, I hate to burst that joy by saying that the line doesn't release until the end of the year.
So while you're waiting, if you're in need of some spiritual guidance, or some good old Zen, the fashion designer and spiritual guru created a "Law of Attraction" mp3 button that will play a 29 second answers. The buttons and upcoming shirts are on sale on ahalife.com and all proceeds will go to the Chopra Foundation to support education in India.
Who says that virtual friends aren't your "real" friends?