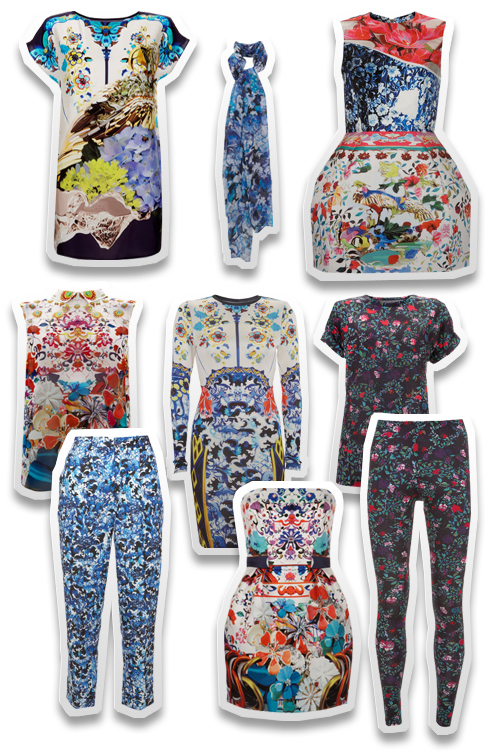 If you've been reading Meets Obsession, then you're probably aware that we've been anticipating the Mary Katrantzou for Topshop capsule collection for several months now.  We love her bright, feminine, ethereal prints, and the best part is that in only 2 days—when the collection launches–we'll be able to afford our very own Mary Katrantzou dress.
Until now, we've only had a glimpse (courtesy of the fabulous Susie Bubble) of one look from the 10-piece capsule.
But now, the wait is officially over.  We have previews from the Mary Katrantzou for Topshop capsule collection, in it's entirety.
The pieces of the collection are comprised of various materials such as jersey, satin, silk and even rubber! There are the usual structured dresses as well as silk printed sheaths, a blue printed scarf, and even a black floral t-shirt and legging combination.
The collection, which is priced from $63 to $550, will go on sale this Friday at Topshop stores and at topshop.com.
Just in time for spring, the collection is sure to be seen on fashionistas everywhere who appreciate high fashion for a low price point.
Which piece is your favorite?
---

Bridget is a writer, stylist, and vintage clothing dealer based in Kennett Square, Pennsylvania. Bridget enjoys spending time with her boyfriend and guinea pig, and in her spare time sells vintage at local flea markets . Bridget is currently obsessed with Zooey Deschanel's wardrobe on New Girl, Moroccan food, and microcars.
All author posts