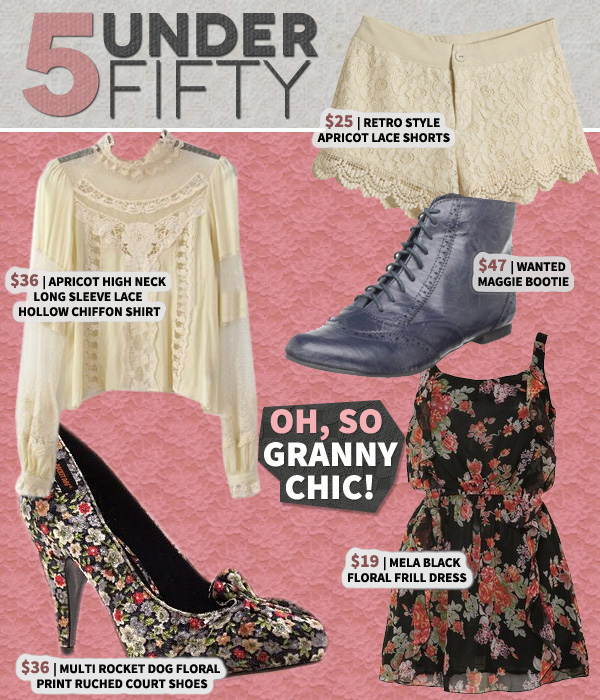 Only in fashion will you find that incorporating elements of your granny's frumpy wardrobe into your own style to be, well, fashionable.
Such is the case with granny-chic, the on-trend style which consists of the things your grandmother probably wore in her heyday (and probably still wears), like floral dresses, oversized cardigans and modest blouses with lace collars.
Reminiscent of Molly Ringwald's unforgettable outfits from the 80s John Hughes film, "Pretty in Pink," women in their 20s and 30s, such as Florence Welch, Carey Mulligan, Dakota and Elle Fanning and even Kelly Osbourne with her old lady-like purple hair, are embracing the mature, vintage look. And if done correctly—mixing a little old with a little modern and new– we're completely on board, too.
For today's "5 Under Fifty," we've handpicked all the under $50 items that we wish we could steal from our own grandmother's closet.

Apricot High Neck Long Sleeve Lace Hollow Chiffon Shirt ($36)
Multi Rocket Dog Floral Print Ruched Court Shoes ($36)
Mela Black Floral Frill Dress ($19)
Retro Style Apricot Lace Shorts ($25)
Wanted Shoes Women's Maggie Bootie ($47)
Tags:
5 Under Fifty
,
Dakota Fanning
,
Elle Fanning
,
Granny-Chic
,
John Hughes
,
Molly Ringwald
,
Pre-fall 2011