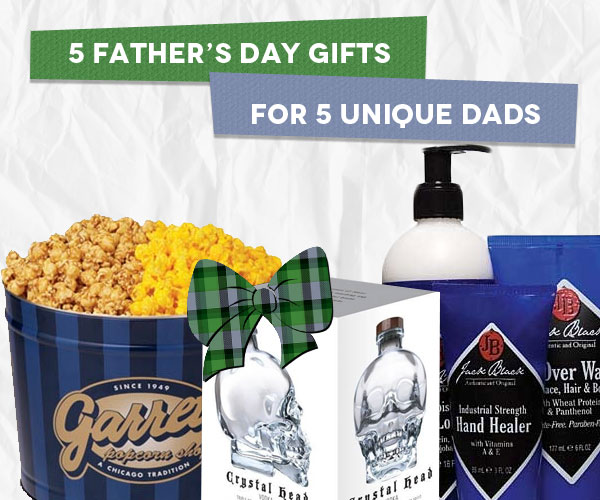 If you're anything like us, you're a last-minute gifter, which means that you probably haven't purchased a Father's Day gift yet. And if you'd like to opt out of the standby gift of a tie and cigars, check out our gift picks that are not too late to order for dear, old dad.

The Cool as F*Ck Dad
Let's face it. You have a cool dad. He comes to parties with you, goes to the same shows as you do (no matter how hardcore), and he still dresses in the same way that he did in his 70s rocker days. So, what do you get the man in your life who is more of a friend than a father figure?
Let your dad play a race car driver for a day by giving him an unforgettable experience on a real race track, driving a real race car. You can choose to have dad drive a corvette, a spec car or an Indy car, for 4 laps or a half-day.  Prices start at only $119.
Cloud 9 Living Race Car Driving Experience | $119 – $1,079

Dad, The Builder
Your dad's garage looks like a high school shop class, with every imaginable tool available. In fact, you're pretty certain that the show 'Home Improvement' is loosely based on your dad's life. From the time that you were a wee lad to now, he's made practically everything you've sat on, and if something is broken, he's the first person you call.
For your hard-working dad, try gifting him the Jack Black Clean & Cool Body Basics Kit. It includes an industrial strength hand healer that is perfect for repairing his calloused hands, and moisturizing basics for the body.
Jack Black Clean & Cool Body Basics Kit | $49

The Boozer Dad
When you were three, you used to refer to his favorite bottle of vodka as "Daddy Water."
Your dad likes—no—LOVES his booze.
And not only does he like to drink his beloved booze, he studies it—from distilling techniques to what the best years are for the best wine. You often feel a bit pedestrian when you order a Samuel Adams in his presence (even though he says nothing, you can still feel the judgment).
For an ultra-cool gift, give your dad Dan Akroyd's Crystal Head Vodka.  With a crystal skull for a bottle made by Milan-based manufacturer Bruni Glass, this is a unique gift as well as a great conversation piece.
Crystal Head Vodka | $89

My Big Fat Geek Dad
Although you love him to pieces, your dad is big fat geek. His interests include: science-fiction, "Star Wars," Comic–Con, "Star Wars," the New York Times Sunday crossword puzzles, "Star Wars," watching the Discovery or Syfy channel 24/7, "Star Wars" and collecting unnecessary geeky shit, like baseball cards, toy robots, old Atari parts and dead butterflies.
To give your favorite geek dad the gift that keeps giving, try gifting him a year subscription to "MAKE: Technology on Your Time." This magazine will provide hours of DIY geek projects that he can master at home.
MAKE: Technology on Your Time annual subscription | $34

The Sports Fanatic Father
It's Sunday, which is officially called "Leave Dad Alone Day," and your dad can be found in only one place: watching a game. As long as a ball is involved–whether it's golf, football, baseball, soccer, basketball, tennis–your dad is definitely watching it.
And what's a sports day without popcorn?  Give your dad a present of the world-famous Garret popcorn, which is a bit expensive, but worth every delicious kernel.
Our favorite is the "Chicago Mix," a blend of sweet and salty with a mixture CaramelCrisp® and CheeseCorn™.
Garrett Popcorn | $26 – $197