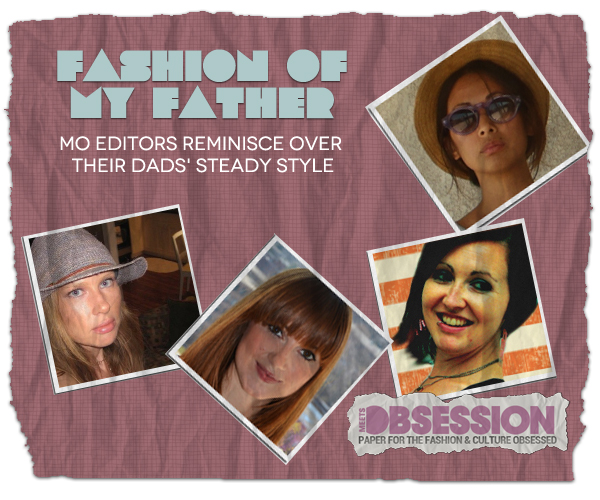 The reappropriation of style by children is often attributed to fashionable mothers of imitable taste, a maternal evocation of sartorial wonder and inspiration.  Legions of models, stylists, and designers have paid public homage to their mothers' stylish apron strings as the genesis of their obsession with everything chic.
This father's day, however, the Editors of Meets Obsession magazine honor our fathers' steady style, their habitual garments, and admit that when we borrow from the boys, what we really mean to say is we're inspired by dear old dad himself.
We take after designer, Isabel Marant, who memorialized the timeless iconography of her father's image with a new timepiece based on her father's watch. And from the images of our fathers in mind, we proceed with Meets Obsession's Father's Day celebration!


Jenny's Pick | Michael Bastian Polka Dot Bow Tie

My dad is known, in the university where he was professor, as "the legend with the bow tie." When he retired recently, his students even baked him a bow tie cake to celebrate. From polka dot and gingham to paisley and stripe, I reckon my dad has close to every type of bow tie a person could possibly own. I'm proud to say that he is a distinctively stylish man. Check out this polka dot number by Michael Bastian, which would fit nicely into his bow tie repertoire and would be perfect for all the other bow tie fanatical fathers out there.


Sarah's Pick | Hugo Boss Orange 1512663 Watch
My dad, though never an incredibly stylish man, influenced my style in two crucial ways. Most importantly, he's responsible for my affinity towards tattoos. I've been in love with them since I was seven, when I watched him get one of his lower arm pieces. Today, I'm working towards completing my own full-arm sleeve. And in that same way, my father has always been drawn to other types of body decoration, like watches. A great addition to his collection this father's day would be this Boss Orange Watch, which has the right amount of edge, class and style. Perfect for dad.
Sinta's Pick | Under Armour Men's Haw Jacket
One of the things I admire most about my father is his athleticism. In better shape than most men his age and in better shape than most men my age, he does not creak and groan with the excessive weight and lethargy that creep over most people as time passes by. A fan of sports and a player of them even now, I consider it a bragging right that my father can still kick serious ass. For a stylish gift that he'll definitely love and wear, get your sporty dad UnderArmour's HAW Jacket.
Susan's Pick | Le Sentier 'Gaite' suede jacket

My father was about as oblivious to fashion as one can get, but he did have a fantastic, fringed suede jacket that I totally coveted—and eventually inherited. The fit is less than perfect, so I rarely wear it, but this updated version from Le Sentier 'Gaite'  makes me think of dad.