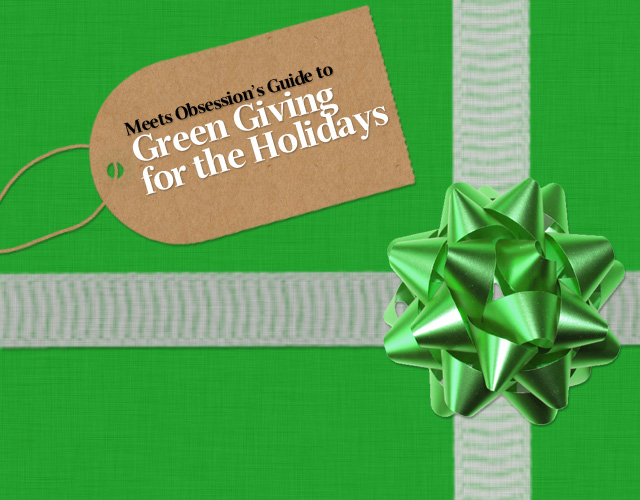 As the world's climate is just getting wackier and wackier, and we feel as if we're defenseless against Mother Nature's superimposing forces, there is still hope!
This holiday season, instead of hitting up the mall and spending money on big department store buys, why not give a green gift that's good for the Earth and therefore good for you.
These days, everybody's becoming more environmentally-conscious. Perhaps it's because we're waking up to the insurgency of our impending environmental situation, or maybe because it's becoming "cool" to go green.  Either way, this holiday season is the time to give an environmentally conscious gift to those we love and cherish.
So, here is our Guide to Green Giving for this Holiday Season: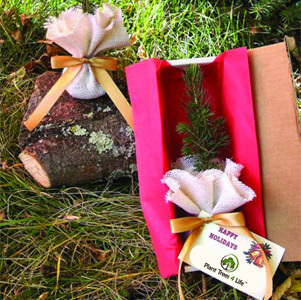 Plant Trees 4 Life
Plant Trees 4 Life, based in Aspen, Colorado, provides a green gift alternative for this holiday season. Plant Trees 4 Life's vision is to plant trees to support the livelihood of future generations. Their goal is to offset the environmental impact of human activities that cause phenomena like clear cutting, forest fires and insect deforestation.
By planting a tree in honor, celebration or gratitude, you are truly giving the greatest gift for the planet.
In addition, Plant Trees 4 Life offers live 10' spruce sampling tree gifts as well. They're $18.99 and each tree comes attractively gift wrapped in an eco-friendly package with a personalized message card, planting instructions and your choice of colored tissue paper and satin ribbon.
Plant Trees 4 Life is a great gift for the ones you love…and the planet that desperately needs our love, today more than ever. [divider]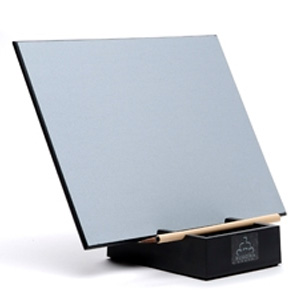 For those with an artistic inclination, Buddha Board could be the perfect gift. Buddha Board's philosophy is based on the Zen notion of "living in the moment." The fleeting or momentary essence of life is recognized and embraced by Buddhists' in all facets of existence.
The Buddha Board allows individuals to draw in water on top a magic surface, making your own creative designs come to life instantly. Then, as the water starts to evaporate your artwork disappears into thin air, allowing the next artistic venture to begin. It is a perfect example of the innovation of sustainable design. The Buddha Board is completely environmentally friendly in usability and production. There are no harsh chemicals and there is no mess involved. And at the end of your Buddha Board's lifetime, you can recycle it. [divider]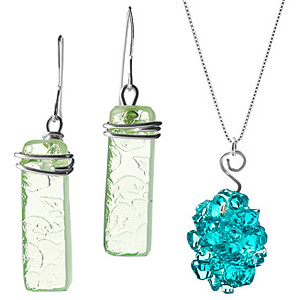 Recycled Antique Glass and Bottle Jewelry
Artist Laura Bergman has created unique pieces of jewelry by re-inventing recycled pieces of glass and old bottles.
Bergman's beautiful multi-colored pieces are all made from 100% reclaimed antique glass that she found in bottle dumps around the country. One of the most distinctive parts of the gift, however, is that Bergman researches the history and origin of each piece of antique glass so that the recipient receives a glimpse into the history of what they're wearing. [divider]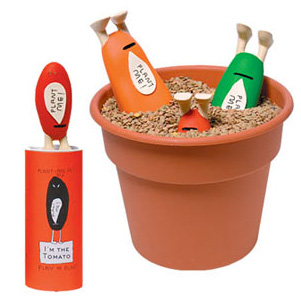 Plant-Me-Pets
Plant-Me-Pets are the perfect gift for children as well as individuals who want to start or expand on their gardens in a one of a kind way. Plant-Me-Pets are small little creatures, that when planted, turn into melons, tomatoes and pumpkins! They're made of a decomposable, biodegradable natural latex rubber, which makes them an eco-friendly and resourceful gift idea for the whole family. [divider]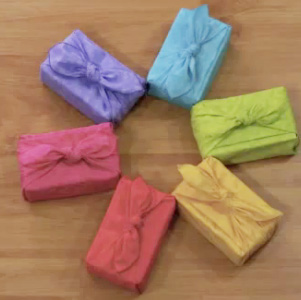 Furoshiki Gives the Gift of Reusable Fabric Gift Wrapping
One of the most environmentally hazardous parts of holidays is the amount of wrapping paper that gets thrown away. Well, the ancient Japanese custom of Furoshiki has a cost-effective and fashionable alternative to this wasteful practice: reusable fabric wrapping paper.
This interesting tradition has also been used in other countries for centuries including Korea, India, Peru, Iran and Afghanistan. And we believe it's time to turn this practice into an American tradition! These cloth-wrapping papers can be used over and over again, giving gifts a special and stylish flare to them.