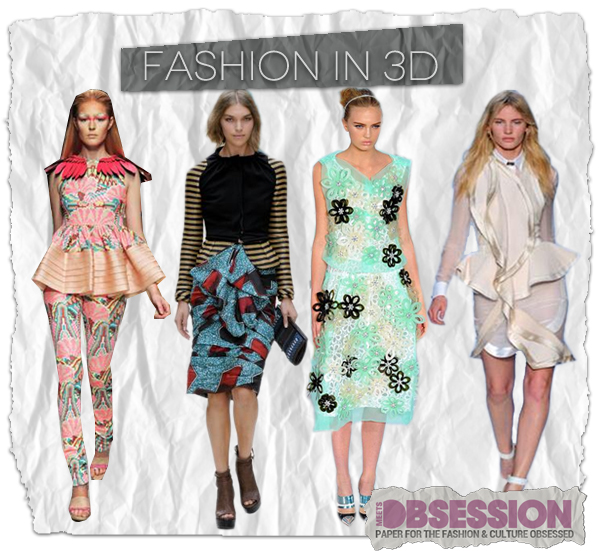 From left to right: Manish Arora S/S 12, Burberry Prorsum S/S 12, Louis Vuitton S/S 12, Givenchy S/S 12

Bold and visually interesting pieces were showcased extensively on the runways this season with embellishments, appliqués and graphic digital prints that lent a sense of luxury and vintage-cool to otherwise simple frocks, while extravagant folds on garments made for intriguing conversational pieces.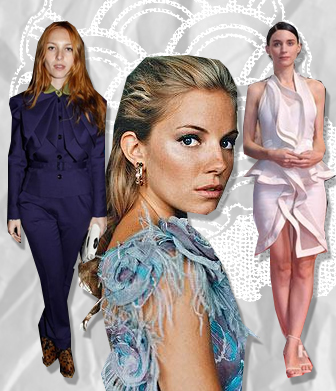 Designers such as Christopher Kane, Burberry Prorsum, Givenchy, Marc Jacobs, Manish Arora and Peter Pilotto turned out looks covered in eye-popping details such as realistic birds and blooms, iridescent embellishments and fashion-forward, folding techniques.
Over-sized eyelet and lace, feather accents, crystal encrusting, elaborate brocades, and beautifully exaggerated folds —materials and techniques usually reserved for couture – were suddenly ready-to-wear.
The chicest of celebs, such as Rooney Mara, Sienna Miller and Josephine De La Baume have been adorning themselves with the 3D trend.
From sensational, folded dresses and jumpsuits to appliquéd feathers, these girls experimented with it all.
Have a look at our ornate, 3D picks that you'll want to reach through the computer screen and touch!
Tags:
Burberry Prorsum
,
Christopher Kane
,
Givenchy
,
Manish Arora
,
Marc Jacobs
,
Peter Pilotto