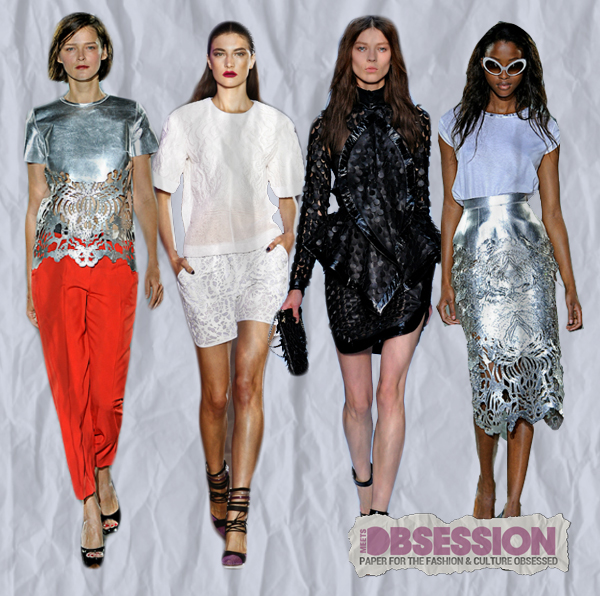 Left to right: Giles S/S 2012, Prabal Gurung S/S 2012, Givenchy S/S 2012, Giles S/S 2012
In the midst of the pastels and the bright color blocking, the cut away to all that colorful solidity is the leather laser cut-out trend.

The look made a strong  resurgence on the Spring/Summer 2012 runways of Givenchy, British designer Giles Deacon and Prabal Gurung in the form of dresses, skirts, shirts and two-piece ensembles. The intricate patterns are made to emulate dainty lace borders, however, this season, looks were much bolder with bigger cut-outs in dominating leather.
The intricate looks have left the runways and have entered the streets, as bohemian gal Nicole Richie, singer Natalia Kills and other celebs have been spotted wearing the laser trend.
This look is worn best when its kept minimal, so don't layer up, or over accessorize. The complexity of the leather cut-outs say a lot on their own.
So this spring, change it up a bit by ditching some color and harness your edgy side with these pieces.

[divider]
Photo Credits:  Giles S/S 2012 (Alessandro Viero/GoRunway.com), Prabal Gurung S/S 2012 (Prabal Gurung Monica Feudi/Feudiguaineri.com ), Givenchy S/S 2012 (Yannis Vlamos/GoRunway.com), Nicole Richie (Getty)