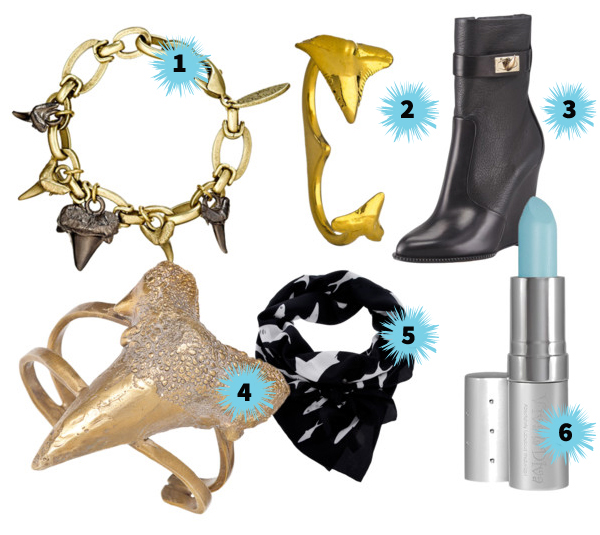 Featured Products
1. Mixology NYC Shark Teeth Charm Bracelet 2. Tiffany Chou Shark Tooth Double Ring 3. Givenchy Shark-Lock Wedge Boot 4. Alkemie Shark Tooth Cuff 5. MARIEL MANUEL silk scarf 6. Viva La Diva Lipstick Shark No 103
[divider]
Unless you're a Discovery channel buff, or marine life enthusiastic, you may not be aware that this week is the Shark Week.
What started 25 years ago as Discovery's channel week-long marathon dedicated to all things sharks, is now somewhat of a social media event, with its own internet memes, iPhone apps, drinking games and tumblr blogs. Not to mention, in 2010, Stephen Colbert proclaimed shark week as "the holiest annual holiday next to the week after Christmas.
So, in honor of all things holy and sharky, we've put together a few of our most-wanted shark accessories.
In the words of Tracy Morgan's character on "30 Rock," "Live every week like it's Shark Week."
[divider]