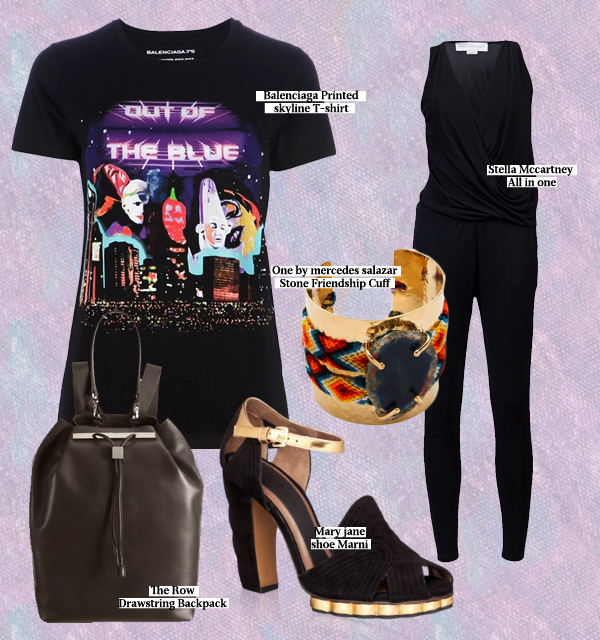 Do you ever wish you could turn back time and wear some of your childhood looks again? We sure do!
Some of our fondest childhood memories are centered around our favorite foods, places and outfits.   Looking through old photographs, it's easy to long after the perfect ensembles your mother put together for you or that dress you used to wear five days in a row.  As an adult, it's easy to get lost in the wide array of sartorial choices available to you.
Every now and then, you stumble upon an item of clothing that speaks directly to your inner child and you think, "Is it possible for me to try this as an adult?" Our answer is: yes, of course!  You can revisit your tried and true favorites by wearing the amped up,  grown-up versions.
Stella McCartney's take on the onesy is the sleeveless All in One jumper.  The silhouette is futuristic, bold and undeniably cool.  We can't get enough of the endless ways you can style this jumper.  We love it paired with Balenciaga's take on the graphic print t-shirt, a must-have in both your childhood and adult life.  Balenciaga does a fantastic job on executing the bold, on-trend graphic print.
As long as we can remember, black mary-janes have been present in our wardrobe and we love Marni's grown up, sexy version.  Complete your outfit with Mercedes Salazar's cool take on friendship bracelets and The Row's luxe version of the backpack. Now, go outside and play.
[box title="Shop This Look" color="#000000″]
Balenciaga Printed skyline T-shirt
One by mercedes salazar Stone Friendship Cuff
[/box]