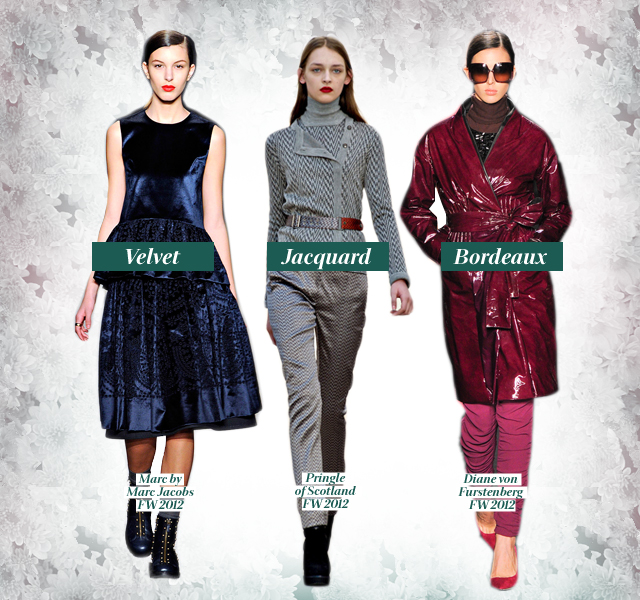 We couldn't be happier with the onset of fall, partly because we can't get enough of cool, crisp weather and pumpkin spiced lattes.
Of course, our cravings extend beyond culinary delights —  we are also looking forward to getting in on the latest trends to hit the fashion world this season.
With so many hot trends to choose from, we've had a hard time deciding on which to try first.
So we thought why not incorporate the best of fall trends into a single dazzling look?
While this may seem like a fashion faux-pas waiting to happen, you can pull this look off by mixing and matching like a pro.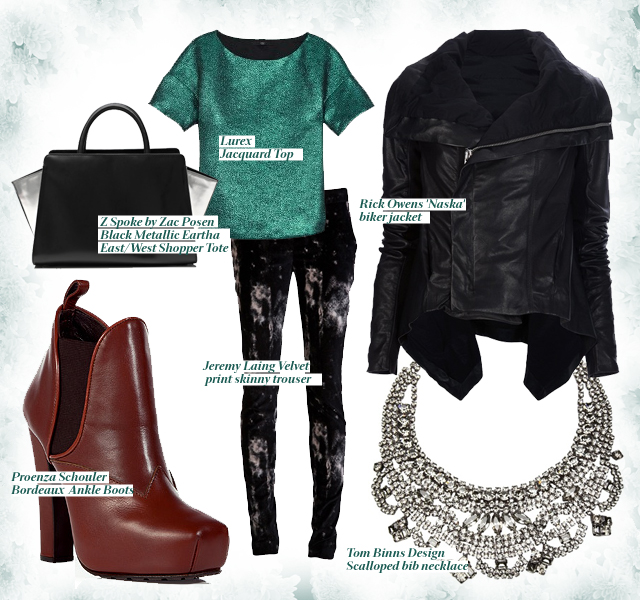 Peplums are here to stay and we love that Rick Owens has added the flouncy detail to one of his signature biker jackets.  The result is unexpected and tones down the toughness of the leather.  Trust us, this is what you want to be wearing for leather jacket weather this season.
Velvet is another trend we love, and these Jeremy Laing bleach splashed skinnies are so fun.  A skinny pant is usually not the first thing that comes to mind when you think of velvet so this is a great option when you're piling on trendy items. Tibi's Lurex Jacquard top is opulent and looks cool when mixed with the tough elements in the rest of the outfit.  You can also go the ultra-feminine route by pairing it with a full skirt and sky-high heels. The biggest color of the season is a rich, deep bordeaux and Proenza Schouler has delivered the perfect ankle boots in the hue to get you through the fall in style.  Bonus: these boots will look great with everything from skinny jeans to girly dresses.
Structured satchels continue to be huge this season and we love Z Spoke by Zac Posen's version.  The bag has a ladylike silhouette and the silver detailing adds a nice contrast.
Top off this look with a gorgeous bib necklace by Tom Binns.  This stunner will surely add a bit of glitz to any outfit this fall!
[box title="Box title" color="#333333″]
Rick Owens 'Naska' biker jacket
Tibi Lurex Jacquard Top
Proenza Schouler Bordeaux Platform Ankle Boots
Z Spoke by Zac Posen Black Metallic Eartha East/West Shopper Tote
Tom Binns Design Scalloped bib necklace
Jeremy Laing Velvet print skinny trouser
[/box]