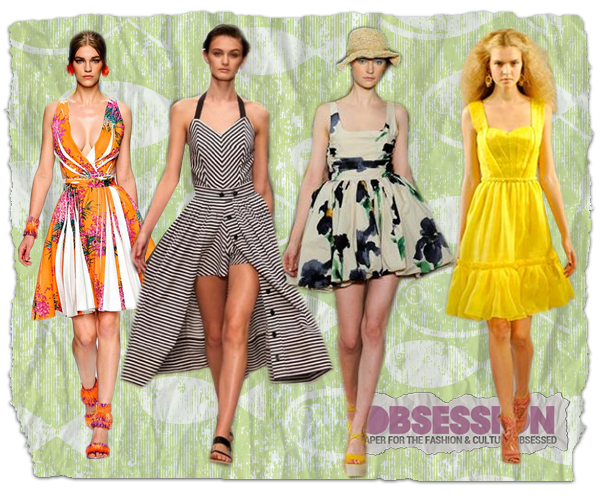 Left to right: Blumarine S/S 12, Daks S/S 12,
Moschino Cheap and Chic S/S 12, Oscar De La Renta S/S 12
Every once in a while, we come across a quintessential look for the season, and for S/S 12, it's the romantic sundress.
Summer is nearly upon us, and there are few women who can do without a dress to keep them cool and comfortable. What better way to enjoy the warm sunny weather than in an easy, breezy sundress?
Between lace, crochet, quirky prints and florals, there's an abundance of choices!
Styled in cotton, silk or linen—which we recommend wearing to help your skin breathe during those stifling, hot summer months—and embellished with a little frill, lace, eyelet and crochet, they're the ultimate feminine, flouncy, light as air, must-have to get you through the summer.
Sophisticated looks were spotted on the runways at Oscar De La Renta, Daks, Moschino, Blumarine and Dolce and Gabbana.
Whether your look is vintage-inspired, modern, or classic, we've found the perfect sundress for you.
Check out MO's picks and breeze your way through the season of the sun.
---

Jenny McFarlane is currently obsessed with ASOS timed sale shopping, obsessively listening to the "Drive" soundtrack, and everything faux fur.
All author posts