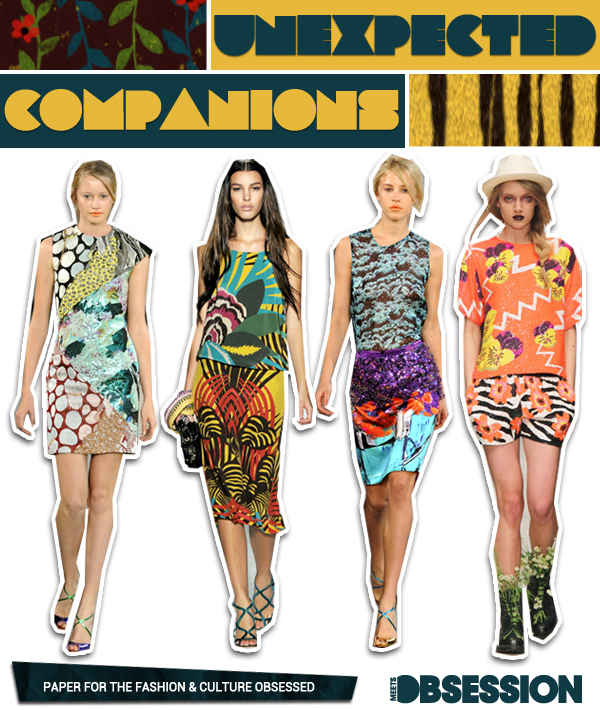 Left to right: Mary Katrantzou S/S 12, Alberta Ferretti S/S 12, Mary Katrantzou S/S12, Ashish S/S 12
I know what you're thinking: "Has MO gone mad? Florals and leopard print together is a faux pas, surely!"
Au contraire, my friend!
If you can't quite get your head around this print combination, just check out Olivia Palermo at London Fashion Week, who recently sported a blooming gorgeous pair of floral trousers with a neon top and vampy leopard print pumps.
The look is a tad unconventional, but the mash up really does work!
Olivia, who is always a constant on our weekly "Best Dressed"  list, is always pushing the fashion boundaries.  Considered one of New York's finest dressers, this mash-up of leopard and floral is a testament as to why her style is looked up to by so many.
And Olivia is not the only one riding the floral/animal print trend.
Animal and floral print mixing was spotted on the runways of Ashish, Alberta Ferretti and Mary Katrantzou for S/S 12.  A few of these designers mixed prints that harmonize together with a base color or tone while some still win through their use of contrast in their printed designs.
In our look, we chose a simple yellow top to go with floral trousers, and leopard print pumps with tan and gold accents à la Olivia.
And if you are not feeling just as brave as Olivia, why not try a signature leopard print accessory such as a bag, sunnies or piece of jewelry to add to a floral adorned garment of your choice.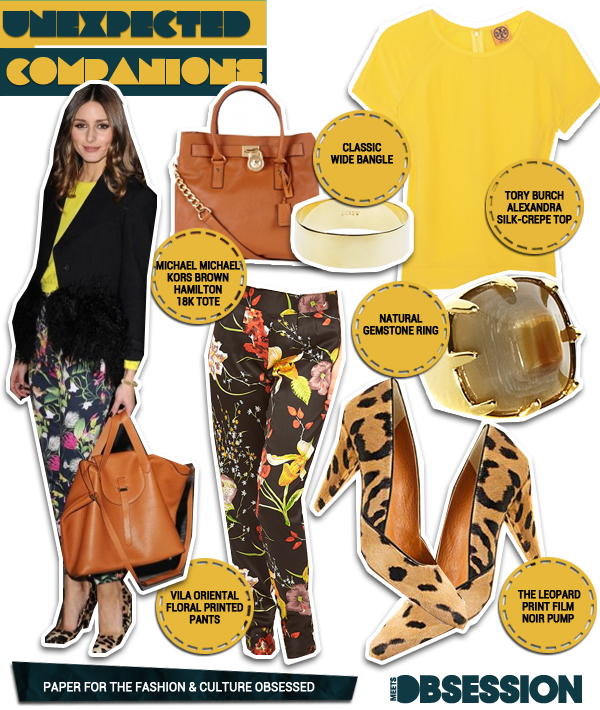 [box_light]Click on the Images Above to Find Out Where you Can Buy this look![/box_light]
Product Links:
[heartlist]
[/heartlist]
---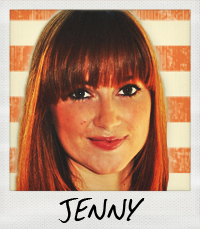 Jenny McFarlane is currently obsessed with ASOS timed sale shopping, obsessively listening to the "Drive" soundtrack, and everything faux fur.
All author posts