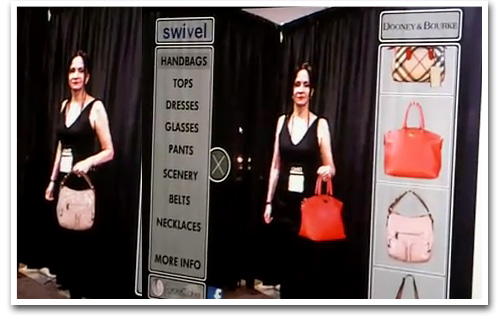 We've all been there before.  We've shopped for the perfect dress all afternoon, our feet are tired, and we're so ready to go home and relax when suddenly we spot THE perfect dress.
As much as we'd like to skip the dressing room, buy the dress in our size, and haul ass home, we know that we'll probably spend the next 5 minutes waiting in line for the fitting room, and thanks to vanity sizing, we'll spend the next 20 minutes trying on various sized versions of our perfect dress.
On days like this, we wish we could be Cher from Clueless for a moment and have our own virtual dressing room.
Enter Swivel, a real-time virtual dressing room created by FaceCake  that makes trying on clothes as simple as waving your hand.
To use the system, you simply stand in front of the camera and a live image of yourself will appear on the screen using  motion-sensing technology (think Kinect).
You'll be able wave your hand over categories like accessories, handbags, clothing and jewelry to see images from the category that you've chosen. Once you select an option it will magically appear on you. And, as the product name implies, the look will move with you as you turn around to look at different angles.
What's really cool about Swivel is that you can  layer your looks. You can also send your virtual images to your friends to get their opinions.
Later this year Swivel can be purchased for in-home use and possibly in select malls in the United States.
Seriously, once this launches for in-home-use, I may never leave the house again.
Tags:
FaceCake
,
Swivel