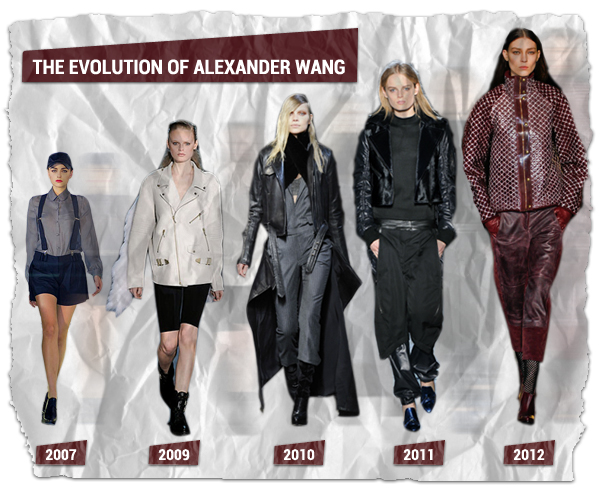 Exalted by women seeking garments boasting modern styling and classic appeal, and revered by fashion icons that he has admired and can now call peers, Alexander Wang has evolved from the new kid on the block to a contender to watch in the school of fashion.
Since dropping out of Parsons School of Design during his sophomore year to launch his eponymous line in 2007, Wang has become a world renowned fashion designer. Although the designer's career is still in its infancy, Wang has advanced quickly through the ranks of the fashion industry becoming known for his tomboyish, yet feminine and chic styling.
Wang, a consistent favorite of downtown starlets who appreciate his casual separates with a rock and roll nuance, looks beyond the typical conceptual possibilities when designing.

Gwyneth Paltrow wearing Alexander Wang. Photo: Dara Kushner/INFphoto.com
[divider]
The California native has reinvented a new realm of casual luxury, combining craftsmanship with high-tech fabrics that creates a street wear wardrobe consisting of stand-out pieces like leather cut dresses, skirts embellished with gunmetal grommets, and utility bombers and vests made from mesh layered over vibrant colors.
These days, Hollywood's biggest stars, including Rachel Bilson, Mischa Barton, Rihanna, Gwyneth Paltrow and Ashlee Simpson wear Wang's attire when they hit the red carpet, and fashion followers are paying close attention to his ever-expanding brand.
In the five years since Wang emerged on the fashion scene, he continues to evolve, so does his business.
Since receiving the endowment from the Council of Fashion Designers of America/Vogue Fashion Fund in 2008, an honor that provides emerging designers a $20,000 award towards expanding their business, Wang has also been named the Swarovski womenswear Designer of the Year and recipient of the GQ/CDFA menswear award.
The young designer, who got his start as an intern for Marc Jacobs, Derek Lam, and Teen Vogue, can add having a Soho flagship store to his impressive resume.
Gone are the days of grueling work as an unpaid intern; Wang is now the innovator behind a $25 million business. The focused visionary continues in his pursuit to showcase his blend of nonchalant and polished sportswear.
Wang has expanded globally, taking his nineties grunge inspired collection on the road with the launch of Opening Ceremony in Japan and Selfridges in London.
Wang's ability to use technological innovation to achieve his distinctive aesthetic of both fuss-free elegance and luxury has enabled his brand to expand with a diffusion line, T by Alexander Wang, a desirable line of cotton tees, metal-detailed handbags and a footwear collection of sky high heels.
Wang's most recent collections have been symbolic of his departure from child's play, as he, and the girl he designs for, has grown up. The result of Wang's evolution is a contemporary collection that is a play on masculine verses feminine and casual versus dressy. And above all else, Alexander Wang is taking us on a journey of his fashion exploration, and is achieving a delicate synthesis of relaxed silhouettes with an edge.
[divider]
Lead photo credits from left to right: 2007-2010 RTW via Marcio Madeira, 2011 RTW via Yannis Vlamos/Go Runway, 2012 RTW via Monica Feudi / Feudiguaineri.com