When Carmen Miranda donned her famous fruit bowl hat in the 1943 film "The Gang's All Here" (possibly forgettable for everything besides her and the hat), she created a cultural moment that still reverberates – for better or worse – in film, fashion, art and pop culture today. She was the original Brazilian bombshell.
| | |
| --- | --- |
| | |
| Carmen Miranda performing "Chica Chica Boom Chic"[divider] | |
Before her, the tropics were regarded by Americans as a backwater, a place that brought to mind mosquitos and colonialism. And then Miranda exploded onto the scene – a Technicolor pin-up as ripe as the fruit glue-gunned onto her costumes. She was so appealing as the tropical goddess that the State Department used her as the poster child for their 'Good Neighbor' policy with Latin America.
Her look was the opposite of minimal. A cacophony of sometimes jarring and competing hued prints that only, of course, served as a platform for ruffles, beads, feathers, lace, coins, lamé and, naturally, some sort of fruit-ed up head piece.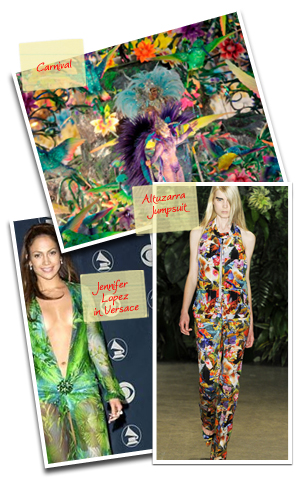 The icon ended up overshadowing the person in the end, reducing Miranda to a caricature.
Her legacy doesn't acknowledge the reality: she was the original triple threat; a hardworking singer, dancer and actor, and, by 1946, she earned more than any other performer in Hollywood. Within ten years she was dead of a heart attack -before the age of 50.
We remember her for the promise of late nights, endless sun, banana leaves and a sultry samba. Carnival, all wrapped up in one woman. With references as dissonant as the vibrant opening scene in "City of God," to every time Sofia Vergara bats her lashes on "Modern Family," Carmen's imprint is firmly etched.
Carmen has always been catnip for fashion. But every now and then she bounds back into the hearts and minds of designers. Anyone who wasn't living under a rock remembers J.Lo's notorious Versace green dress at the 2000 Grammy awards – it even has its own Wikipedia page.
More recently, Stella McCartney's S/S 2011 collection paved the way for Altuzarra's S/S 2012 collection. Everyone loves the promise of a hot beach and a cool drink, and that's exactly what you'll want when you check out our Carmen Miranda style picks.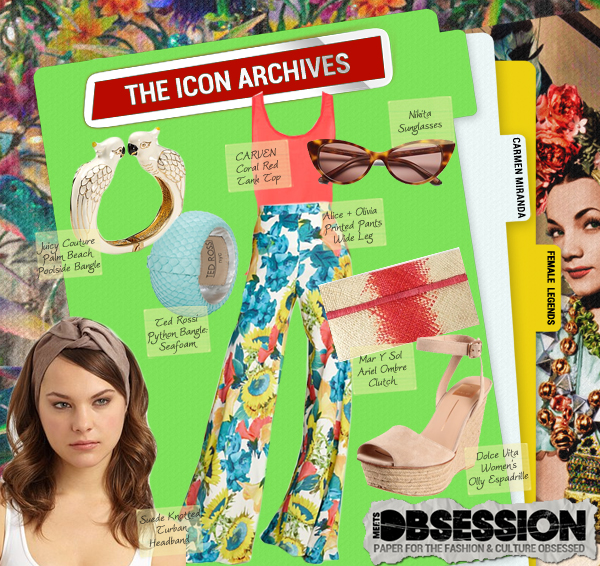 Get the Look
Alice + Olivia Pants – Printed Wide Leg
Juicy Couture Palm Beach Poolside Cockatoo Bangle
Ted Rossi Python Bangle: Seafoam
---

Pleatherette is a DC-based fashion and style-focused consulting firm. We partner with creative entrepreneurs to pursue unique projects that twist traditional and established concepts about the role of fashion in our everyday lives.
All author posts