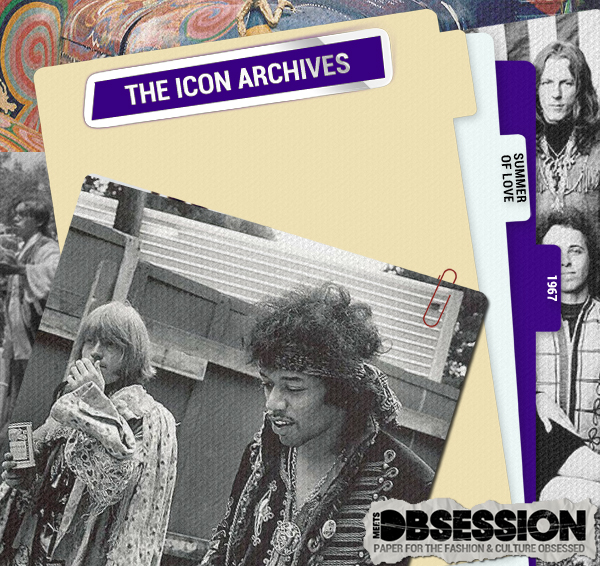 The year was 1967 and all the girls were running around sunny San Francisco with flowers in their hair. Right? No.
Anyone who's ever spent a summer in San Francisco knows that gauzy boho nothings are a quick trip to frostbite. And those who took part in the "Summer of Love" wore neither flowers in their hair nor whatever hippy-love-peace outfit you might be conjuring up in your mind.
Before all the hangers-on arrived, the disillusioned artists who coalesced to create a populist youth movement that got stuck with a down-right commercial moniker had grand ambitions. Huge, sweeping, grandiose ambitions. And they dressed the part. Not in blue jeans and tunics, but as harlequins and princes and knights. Here to overthrow the man in the blue flannel suit, they arrived Romantics, donning togs from Romantic eras and peoples. And then left just as disillusioned as they began.
Tom Wolfe noted their historical style in his 1968-published book,  The Electric Kool-Aid Acid Test, noting their "costumes, the jesuchrist strung-out hair, Indian beads, Indian headbands, donkey beads, temple bells, amulets, mandalas, god's-eyes, fluorescent vests, unicorn horns, Errol Flynn dueling shirts."
It was a mishmash of pattern and time: half- English country squire and half-Venetian merchant. All in the gloomy fog of a San Francisco summer. They were the first in the now great tradition of playing to street style photography, like Tommy Ton outside of Lincoln Center they ambled around San Francisco in their crazy, ambled outfits. People would drive into Haight-Ashbury just to see them. The way they layered and clashed was completely foreign to the time, but almost compulsory for any good fashion editor now.
There were many good epistles of their Youth-cum-Baroque style over the years, but the latest (and potentially greatest) is Miuccia Prada. Eighteen in 1967, Prada lived the summer and resulting wave over the next decade, studying to become a mine, joining the Communist Party, and championing women's rights. Then, you know, she started designing clothes.

Prada FW 2012 Collection [divider]
While many of her collections echo the summer, Prada's Fall/Winter 2012 collection could have been a touring outfit for Jefferson Airplane. Rife with geometrics, brocades and print-on-print on print, they cut through the pirate hat silliness of the era to match the polished modern woman. Yes, we do love it that much.
As all things with fashion known to come full circle, these clothes with their jewel-tone rich, heavily-woven textiles like tufted velvets, may seem jarring at first, but remember the pioneers who transformed these once-conservative styles into the costumes signifying the lofty dreams and aspirations that made them legends.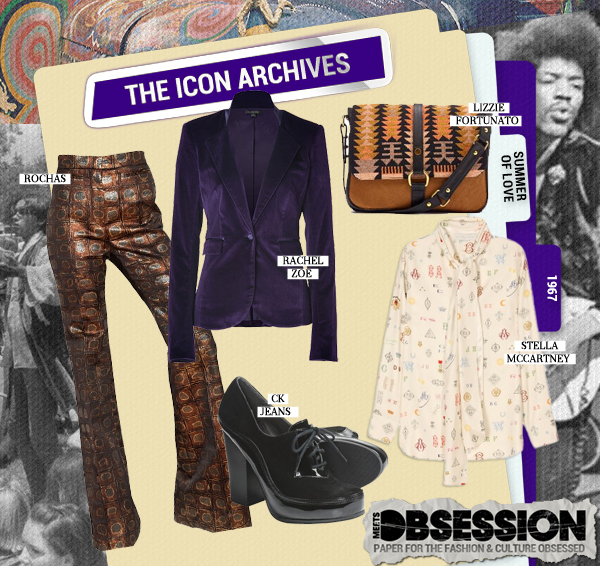 [box title="Get This Look" color="#000000″]
Rachel Zoe Eggplant Velvet Hutton Blazer
Stella McCartney PRINTED SILK BLOUSE
CK Jeans Nell Heeled Oxford Shoes – Suede-Patent Leather
Rochas – 3d Rayon Brocade High Waisted Trousers
Lizzie Fortunato Indian Summer III Purse
[/box]
---

Pleatherette is a DC-based fashion and style-focused consulting firm. We partner with creative entrepreneurs to pursue unique projects that twist traditional and established concepts about the role of fashion in our everyday lives.
All author posts