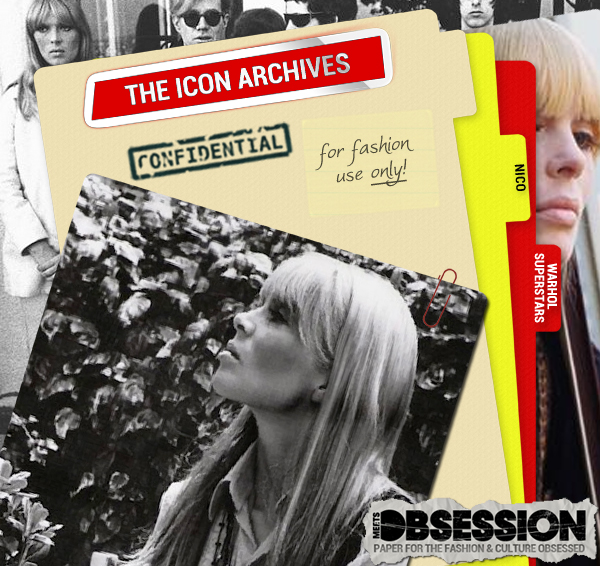 Before there was… there was Nico. There is only Nico, the model, musician, poet, and artist who bolted on her contract to be the face of Chanel at the age of 17 and never looked back.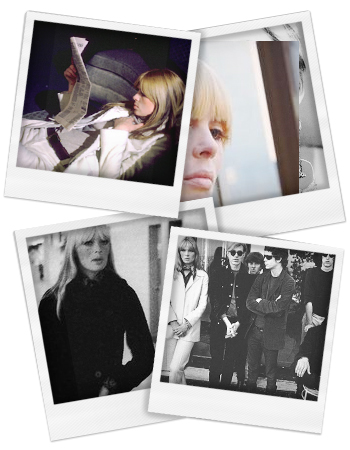 Nico is the beautiful, tragic finale to our two-part series (Part 1, Edie Sedgwick) looking at the Superstars coming out of Andy Warhol's famed NYC Factory in the '60s.
While Edie's claim to fame is all wrapped up in her identity as a Warhol Superstar—in part due to her untimely demise—Nico launched out of The Factory and onto a record of her own making.
Nico's heavy-lidded stare, throaty wandering tone, long blonde hair and lanky 5' 10" frame first got her attention as a model working in Berlin, and, soon after, she became known as an international ingénue and, finally, a revered musician.
Her Gypsy-nomad bohemian lifestyle led her to take up residence in Germany, Ibiza, Italy, France, England and the States over the course of her 50-year life, all the while picking up new accolades and new talents.
Nico is best known for lending her voice to The Velvet Underground's 1967 debut release, "The Velvet Underground & Nico," a match made by Andy Warhol, who also designed the iconic banana peel cover.
"The Velvet Underground & Nico" was named the 13th best album of all time by Rolling Stone. If you haven't picked up the album yet, you'll recognize Nico's purr from the soundtrack to Wes Anderson's "The Royal Tenenbaums," or you can just imagine Stuart Lee Murdoch of Belle and Sebastian, but better.
Nico went on to collaborate with a formidable list of artists including Bob Dylan (who wrote a song for her immediately after they met, cause yeah, she was like that), Frederico Fellini, Serge Gainsbourg, Brian Jones, Jimmy Page, Lou Reed, Jon Cale, and Brian Eno.
She most certainly ran in a boys club, and her minimalist, menswear-inspired look reflects her stance as an equal, not a muse. The white pants and boxy blazer finished with dark Beatle boots worn for "The Velvet Underground & Nico" promo shots is the kind of look that only a Nico could rock and still pull off the utterly feminine.
She barely budged from her palette of stark whites and blacks, but wore them so casually that she exuded a utilitarian, almost gender neutral elegance. And this was during a time when women were running around in flower child flowing maxis and all.
In many ways, her look pre-dates magazine editors falling over themselves to gush about the simple, sensible and beautiful cut clothes that have been coming out of strong female led-design houses like Chloe for years. Stella McCartney's impeccable tailoring and Phoebe Philo's winning separates at Celine immediately come to mind, and surely Jil Sander is a spiritual sister.
Bonus round: Nico's signature long blunt cut with fringe would follow her all her days, the kind of effortless personal statement that makes a woman memorable and timeless.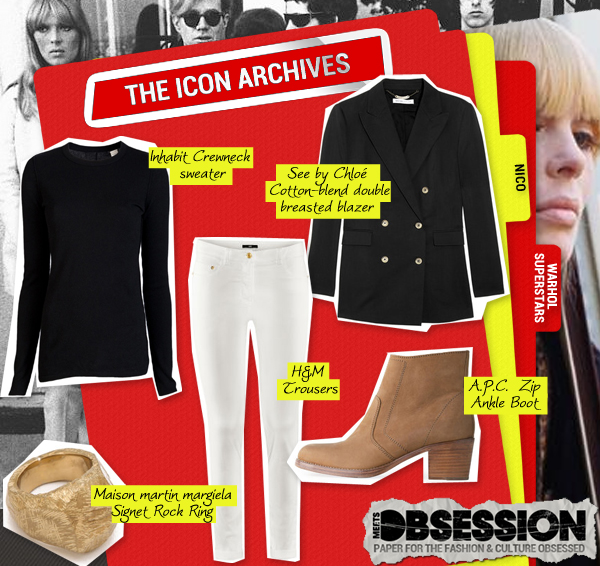 Tags:
Andy Warhol
,
Nico
,
The Icon Archives
,
The Velvet Underground