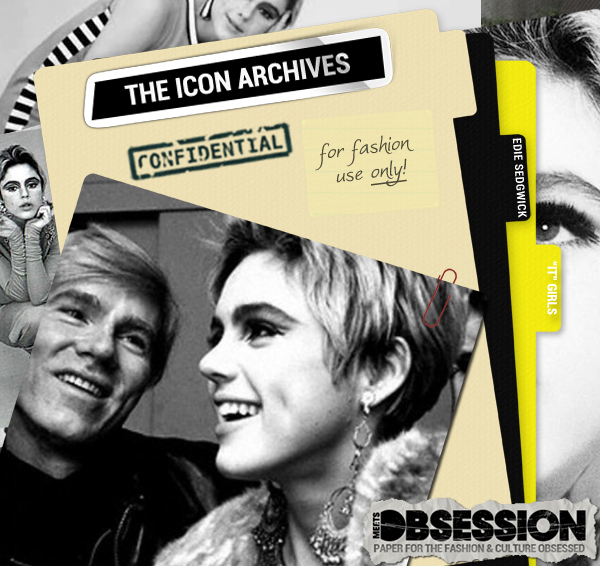 There was a lot of chatter when Paris Hilton broke on the scene, the pretty, vapid socialite, who was famous for being famous. Her popularity left the door open for the likes of Perez Hilton and, broadly, a new pop culture, celebrity-obsessed phenomenon.
But 40 years before, father of pop-art Andy Warhol was manufacturing not only his famed screen prints, but a series of Warhol Superstars – eye catching, creative mega-personalities – out of his loft studio space, The Factory.
Because of the resounding impact of Warhol's Factory and the Superstars he produced, this "Icon Archives" is a two part series.
This week, we'll be taking a look at Warhol's megastar Edie Sedgwick, a pixie who was best known for emerging from the quirky Factory to become a national sweetheart, It Girl, and, ultimately, for her tragic end at age 28.
Warhol's Factory was aptly named, it was home to the assembly line for many of his most famous pieces, including his screen prints, but also his series of screen tests and films, which frequently featured his Warhol Superstars.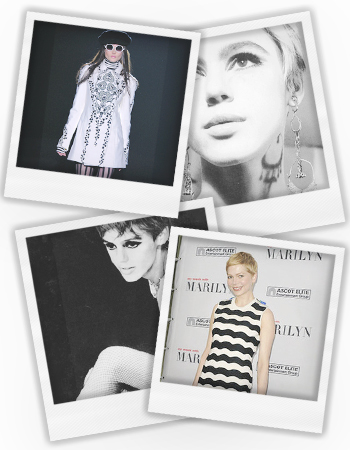 Edie came on the scene in 1965 and was immediately a smash. After small roles in Warhol's "Vinyl" and "Horse" films, the pop artist imagined the "The Poor Little Rich Girl Saga" series featuring Sedgwick. Warhol then gave Sedgwick starring roles in "Kitchen" and "Beauty No. 2." She went on to appear in four more films before she and Andy's relationship ended abruptly in 1966.
Edie developed a signature mod style that contributed to her memorability with the masses, including oversized chandelier earrings, horizontal striped shirts, leotards, heavy black eyeliner (Edie was the original smoky eye), and super-mini A-line dresses.
Edie was memorialized in 2006's "Factory Girl" biopic starring Sienna Miller, and stars like Kirsten Dunst and Michelle Williams have modeled her signature blonde pixie all over the red carpet.
Williams' It Girl makeover look also took fashion cues from Edie, using a lot of simple cuts, black and white color blocking and Mary Quant peter pan dresses. For Fall 2012 RTW, designer Betsey Johnson, also a Factory regular, sent her models down the runway in high contrast signature sixties colors (bright pink, orange, and yellow; black and white), A-line party dresses, mini skirts and swing coats.
Edie was the classiest tragic, super-celebrity, fashion-obsessed-party-girl heiress on the books, and stylists and designers consistently revisit her look to convey that naïve, disarming charm so coveted by the a-list set.

1. American Apparel Polo Neck Dress
2. Miguel Ases Swarovski Cluster 14k Gold Filled Dangle Earrings
3. M·A·C 'Penultimate' Eye Liner
4. BELLE BY SIGERSON MORRISON Andromeda Leather Ballet Flats
5. Bobbi Brown 'Miami Shimmer Cheek Glow' Powder Gel Bronzer
---

Pleatherette is a DC-based fashion and style-focused consulting firm. We partner with creative entrepreneurs to pursue unique projects that twist traditional and established concepts about the role of fashion in our everyday lives.
All author posts