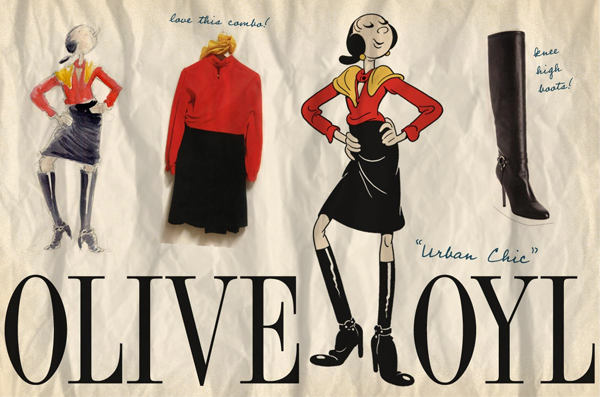 Photo courtesy of The Standard
Vintage cartoon beauty Olive Oyl was simply known back in the day as the mouthy girlfriend of the spinach eating, muscled hero Popeye.
Decades later, her iconic image is now being recreated in The Standard Hotel x King and Hearst Features collaboration, as they curate a collection of vintage pieces to recreate the classic character.
The four-location hotel boutique, The Standard, recently commissioned comic artists Frank Caruso and Stephen DeStefano to create a comic strip featuring Olive and her beau, Popeye, checking into The Standard in Hollywood.
It didn't stop at the comic, as they decided to recreate Olive's vintage style.
It's no surprise that The Standard, a brand that  happens to be on-point as to what's trending in the world of art, fashion and culture, introduced Olive's recreation around this time, as vintage looks, such as the pin up, have recently resurfaced.
While Olive Oil is no pin up, she certainly has an admired retro vibe and brings a different take to vintage fashion.
To capture her style essence, Hearst and King Features, the world's premier distributor of comics such as Bettie Boop and Popeye the Sailorman, have gathered clothing from vintages stores around Los Angeles and created style boards that feature the original sketch of Olive in the look, a new illustration of the character and the recreated real-life clothing ensemble.
The first ensemble is the "Spring Safari" look, which is a simple black, sporty two-piece that is comprised of a jacket suit and Capri pants with simple white sandals and a cute orange and red colorblock bag.
"Rock the boat" is a minimal look that consists of a high-waisted pair of white shorts paired with a black long sleeved v-neck shirt. To top of the look, a cute mini black bag with grey boat shoes pulls it all together.
"Fabulous 40s" is a cute high collared red dress styled with a striped scarf and black high-heeled Mary Janes. The other decade look, "Flirty 30s," is a pilgrim-collared dress nipped at the waist. This look also features a scarf wrapped around the neck with matching sweet brown leather pumps.
The last look, "Urban Chic," is paradoxically retro, yet modern. The look features a flirty red, keyhole sweater paired with a black skirt. The simple look is turned into a sassy one with the knee high black boots.
These looks certainly capture Olive and stays true to her character. Not to mention, her style is effortlessly retro.
Bettie Page, eat your heart out.
To check out more Olive Oyl goodness, check out oliveoylloves.com.