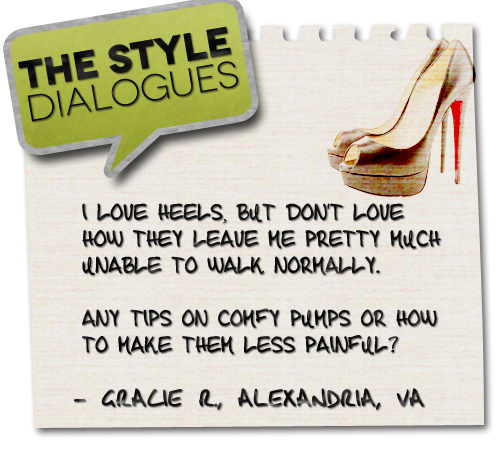 Dear Gracie with the painful feet,
I have that very same problem. Mine is more specific, actually. My technique is pretty good: make sure you're stepping heel to toe, and that you're putting one foot in front of the other as much as possible, and you won't look like a duck.
But no matter what, my ankles do what I call the baby giraffe whenever I walk around in heels for too long. Once they've decided they've had enough, they just kind of wobble out of place and I usually wind up stumbling the last couple of blocks to the train. Unpleasant. But not incurable.
There are two solutions to this conundrum: wedges and booties.
You don't necessarily need stilettos for height. You can get the same butt lifting, calf hardening, wolf whistling effect from a shoe that throws your foot into any kind of Barbie type angle.
If your issue is stability, look for a three to four inch wedge–they're much sturdier than regular heels. Check out Steve Madden and TopShop for affordable pairs.
If you have ankle mutiny problems like me, look for ankle booties and gel insoles. Zara has some incredible ones on sale right now, so go solve your problem by buying a pair, and wobble no more!