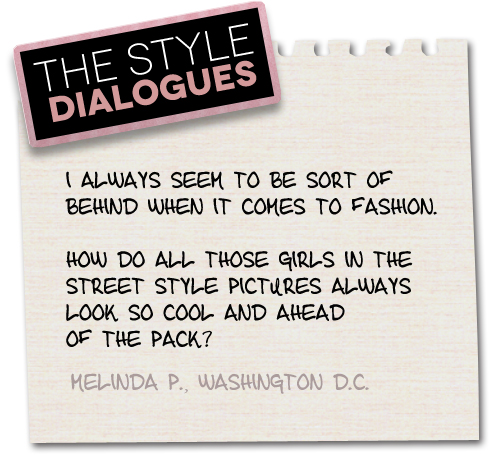 Dear Melinda,
The answer is right under your nose.
To be ahead of the pack, you can't look like the pack.
Though Tumblr and fashion blogs are incredible places to spot cool things you would never find elsewhere (Hallelujah, internet!), they can also lead to what I like to call a Jeffrey Campbell effect. All of the cool girls are photographed wearing them. Then everyone starts coveting, and soon there's a sale and more and more people start buying and being photographed in them. Then the market on cool yet stompy footwear is saturated, and the only thing you're doing by buying JCs, awesome as most of them are, is looking like everyone else. It's like the world has turned into a big high school.
So back to your question–how to outdo the popular kids?
Stop watching them so closely! Head over the style.com, and check out runway coverage from the past few seasons.
Look up classic designer lines, too, for context, and then you'll start to figure out what your own style is independent of what everyone else is wearing.
Once you've figured out what to wear, you have a whole world wide web to shop for it.