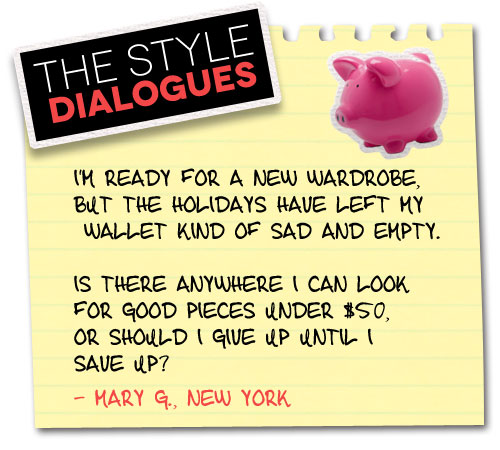 Dear Mary G. in New York,
Give up? On shopping?
No, no, no.
This might be the best season to shop. In fact, stores are looking to recoup their losses from the flood of holiday returns that they see in January, and both real stores and web stores are looking to get last season's stock outta the warehouses in anticipation of spring and summer collections.
Remember, fashion is always about 6 months early to the temperature party.
It's not polite, but it can be convenient if you're looking for, say, a winter coat in the winter.
Check out sites that are known for their blowout sales: Urban Outfitters, Karmaloop, ASOS and ShopAkira are good places to start, and for basics, nothing beats Victoria's Secret's semi-annual sale paired with an arsenal of coupon codes from RetailMeNot.
If you don't mind saving up a bit, check out Yoox and The Outnet for incredible deals on super fancy designer pieces (as the best way to really build a wardrobe is through good, lasting staple pieces).
Mary, hopefully my suggestions will give plenty of affordable, thrifty options for your post holiday shopping.
Happy shopping!