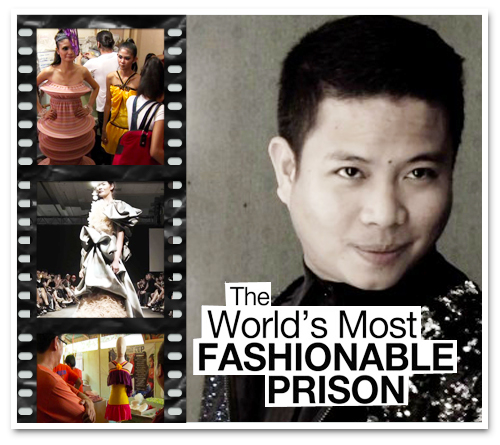 In the Philippines, designer Puey Quinones is one of the most notorious fashion designers, whose talents are said to rival those of John Galliano's—talents that are now overshadowed by one very infamous "fashion scam."
In an effort to make up for his past, Quinones journeys on a path of redemption, which is documented in the upcoming film, "The World's Most Fashionable Prison."
The designer was known for his unique silhouettes, hand-painted gowns and artistic draping—no doubt he was well admired in his country and his creativity was sure to take him to international stardom. However, his fate was sealed when he re-tagged a suit that he was commissioned to design for a couple's upcoming wedding.
On February 14, 2011, the designer was caught when the couple found a department store label tucked inside one of the inside pockets. The couple paid $668, while the department brand is $67.
The Most Fashionable Prison Trailer


____________________________
The scandal escalated when the angry bride tweeted the incident, which caused it to go viral. Clients began to withdraw their orders and ultimately the Puey Quinones named suffered. The designer went into hiding for two months.
Since then, Quinones issued a public apology and gave several interviews explaining his major fashion faux pas was caused by his ambition and impatience. However, as we've seen with many celebrities, saying sorry isn't as good a proving it.
The designer has set his goals toward rehabilitating prisoners who were convicted of murder, rape, kidnapping and other violent criminals by teaching them how to sew and make custom women's clothing.
Now the prisoners-turned-fashion couturiers will create gowns and accessories that are professional enough to be worn by models and walked down a runway—in fact their work will debut at the "Project Bilibid Runway," the Philippine's version of "Project Runway."

The documentary itself seems very emotional as we follow Quinones's journey to rediscovering himself and making up for his scam, while at the same time giving these inmates a chance to make something more of themselves. This is sure to be a way more intense and compelling version of Project Runway.
"The World's Most Fashionable Prison" is expected to release next year.