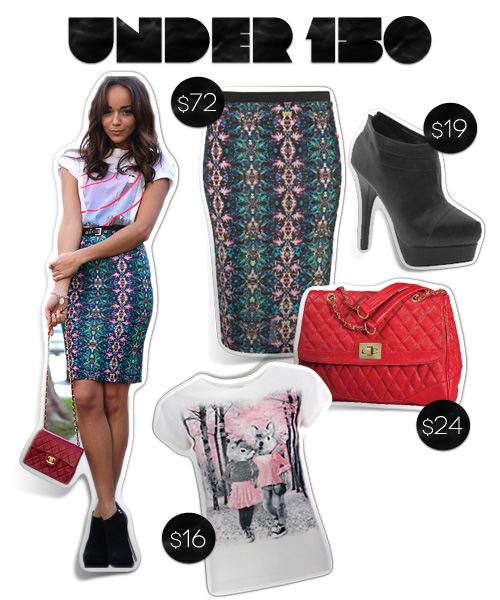 Click on the images above to find out where you can buy this look!
Revenge star and fashion blogger Ashley Madekwe was spotted looking psychedelic cool in a colorful kaleidoscope pencil skirt, a vintage concert tee and a pair of Giuseppe Zanotti black booties.
Why we love this look: We love how Ashley keeps her look young and fresh by pairing bright colors with contrasting patterns. Her neon stripes paired with a kaleidoscope pattern could have easily been a fashion disaster, but Ashley manages to wear it brilliantly.
How to get this look:  If you're ready to go color cool like Ashley, but have a limited post-holiday budget, try this look for less by wearing a Mango vintage print tee and a pair of Gomax Lucky Dog 10 Booties with the exact same Topshop skirt Ashley was seen wearing.  Instead of the lovely—but out of our budget—Chanel bag,  try this red quilted satchel bag by Silouhettes.  You'll be perfect example of color done right.
Total cost to our look: $133.95
Mango Vintage-cartoon print t-shirt | $16.99
Kaleidoscope Print Pencil Skirt | $72
---

Audrey is currently obsessed with humorous puns, Erte, Thursday nights on NBC, and scrolling through couture millinery websites..
All author posts