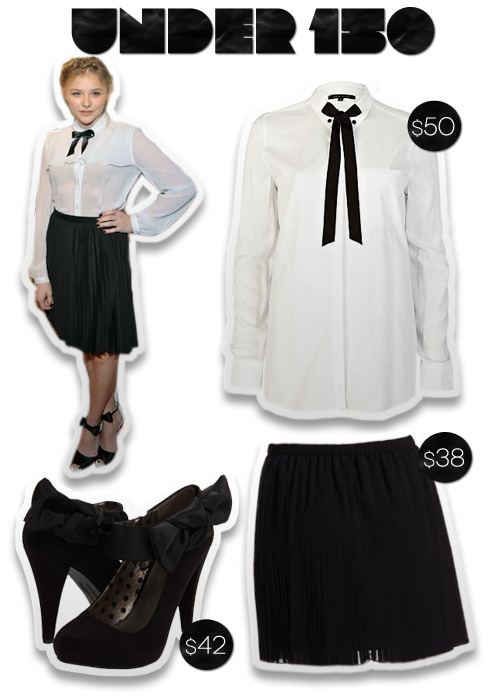 Click on the images above to find out where you can buy this look! Chloe Moretz photo: Style.com & Getty.
Actress Chloe Moretz continues to amaze us with her brave, risk-taking style that often pans out brilliantly. At only 14 years old, she's the one to watch on the red carpet.
A big perk of being a celebrity is that often times you'll have the opportunity to wear a designer's collection weeks before the official launch, and if you're a fashion trendsetter like Chloe Moretz, you get first pick.
Recently, Chloe was spotted at the Jason Wu for Target  launch party in Soho wearing a boldly-contrasted black and white  Jason Wu for Target ensemble.
Why We're Obsessed: We love the girly and yet simple statement this Jason Wu look says.  The pleating and bows carries her look in a flirty and playful direction, and the contrasting black and white adds an appropriate amount of edginess to an outfit that could easily err on the side of being too pretty.
This is where Wu reigns—in his ability to take pretty and elegant to fashion-forward and modern.
As for her hair choice, Chloe is wearing the hairstyle of the moment—a front crown braid—which was also seen last night at the SAG Awards on actresses Dianna Agron and Kaley Cuoc.
How to Get This Look: In most Under $150 columns, we choose looks that are usually unattainable to those without steep budget.
For this particular look, the good news is that most Jason Wu items will be priced from $19.99 to $59.00, which means that you'll probably be able to score the real Jason Wu for Target look for under $150—that is, if you're the lucky few who get to a Target store on February 5 before the collection sells out
And if past Target collaborations have been any indication, your chances are pretty slim.
So, if you still want to get this look, but you're not the type of die-hard fan that will stand in a Target line at 3am the evening before the collection launches, we've got an affordable solution. Try wearing this BCBGeneration pleated skirt with a bow tie shirt from River Island and accessorize with a pair of Ferglicious Black Ines. You'll be party pretty in this flirty look.
Total cost to our look:$131.48
Skirt:  BCBGeneration Women's Pleated Skirt with Waistband
Shirt: River Island Bow Tie Shirt
Shoes: Fergalicious Ines