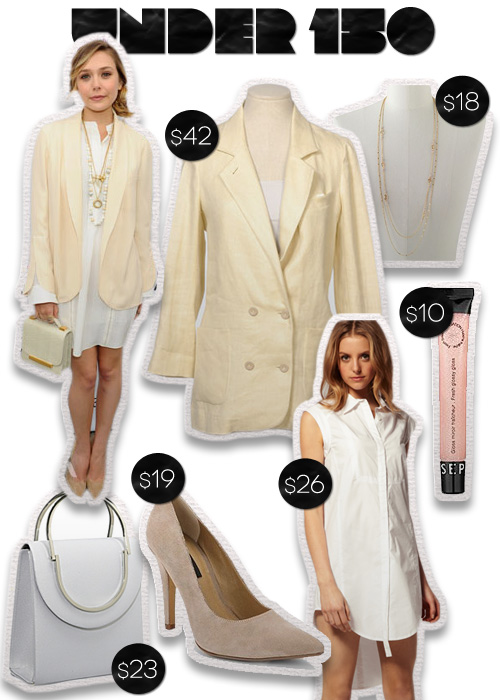 Click on the images above to find out where you can buy this look!
Not only is Elizabeth Olsen fast becoming one of the most talked about young, talented actresses in Hollywood, but her style has also proven to be on par with other notable fashion trailblazers.
Her Chloé outfit consisting of a blazer and a white shirtdress—worn at the Independent Spirit Awards Nominees Luncheon in Los Angeles—solidifies her name among many "best dressed" lists.
Why We're Obsessed: Elizabeth, looking modern and cool, demonstrates how to do minimalism right. And although the colors in her outfit are muted in shades of yellow and white, her look still manages to make a strong statement and begs to be seen.
Her sweeping side-bun adds the perfect touch of breezy easiness, and her soft eye makeup and almost-nude lips keeps her face young and fresh.
How to Get This Look:  To become a master of minimalism like Elizabeth Olsen, try this Cynthia Rowley Blazer, an ASOS Shirt Dress with Cap Sleeve, and accessorize with a Carlo Fellino bag, a Lauren Conrad necklace and a pair of BDG Suede Stiletto Nude Heels, which we think are quite the steal at only $19.
For a fresh face like Elizabeth's, color your lips with Sephora's "fresh" Glossy Gloss for a softer look.
Watch out, Tilda Swinton! You're no longer the only minimalistic madame in town.
Total cost to our look: $140.84
Dress: ASOS Shirt Dress with Cap Sleeve
Shoes: BDG Suede Stiletto Heel Nude
Lip Gloss: SEPHORA COLLECTION Fresh Glossy Gloss
Necklace: Lauren Conrad simulated pearl long necklace
Credits:
Stylist: Audrey Leon
Elizabeth Olsen photo: Getty