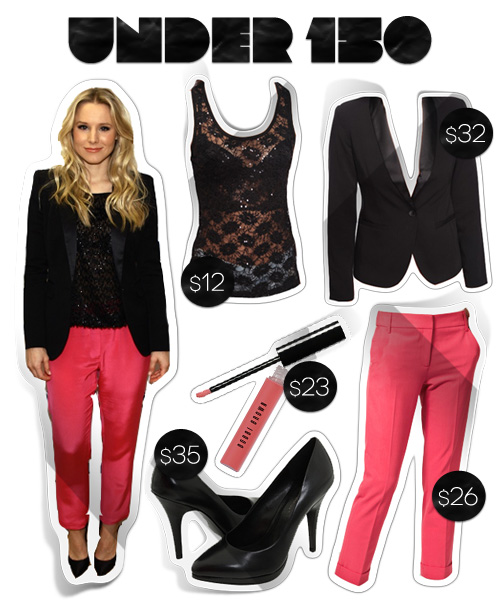 Click on the images above to find out where you can buy this look!
Kristen Bell masters the art of color popping in a cute and sassy outfit comprised of hot pink pants, a sequined top, and a Rachel Zoe tuxedo blazer while visiting the SiriusXM studios in Manhattan.
The 31-year-old actress signed SiriusXM's celebrity guest wall and sat down to speak with "Mark Says Hi" about her new Showtime series, House of Lies.
Why we love this look: Soft, blushing pink and hard, brooding black are a match made in heaven.  Add a bit of sparkly, like Kristen's  lacy sequined top, and you've got the perfect outfit: a little softness, a little hardness, and lots of razzle-dazzle!
And to add just the perfect amount of masculinity to her mostly feminine look, Kristen wears a boxy Rachel Zoe tuxedo blazer with a satin collar. We love how casual cool she keeps her look, yet it's still dressy enough to wear on the red carpet.  Très chic!
To pop some color into your look like Kristen, try wearing a satin collar blazer by Forever 21, pointy pumps from BCBG MAX AZRIA, a sequin lace top by Forever 21, and a pair of lovely pink cropped pants by Asos.  Add shiny Bobbi Brown lip gloss and you'll be fashionably ready for almost any occasion.
Total cost to our look: $131.15
Style deals Sequin Lace Tank | $12.50
ASOS Jet Pocket Slim Cropped Pants | $26.86
Forever 21 Satin Collar Blazer | $32.80
---

Audrey is currently obsessed with humorous puns, Erte, Thursday nights on NBC, and scrolling through couture millinery websites..
All author posts