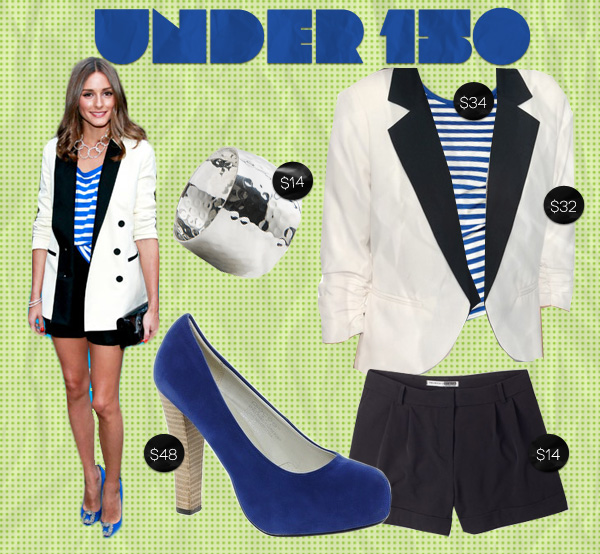 In our book, Olivia Palermo can do no wrong in her fashion choices. Even on her worst days, when her looks are questionably clashing—she still looks incredibly pulled together. She just has the certain je ne sais quoi about her, which is why we're always watching what she does in the fashion world.
Why We're Obsessed: When we spotted Olivia at Faberge's New York flagship store wearing a striped tee, a white contrast tuxedo jacket and Manolo Blahnik heels, we were struck with fashion envy.
Olivia puts her own quirky spin on the American classic look with pops of color and mixing contrast patterns. And, once again, Olivia  proves why she remains at the top of the "Best Dressed."
How to Get This Look: Putting  together an outfit  that is nearly identical to Olivia's is a lot easier than you think, and less expensive. Simply pair a Levi's sunset tee with a Necessary Objects cuffed short and a two-tone blazer.
Complete your look by accessorizing with a Pieces Carrie heeled pump from ASOS and a hammered bangle from Mango.
Soon enough, you'll be on everyone's "Best Dressed" list, too.
Total cost to our look: $145.49
Product Links:
Pieces Carrie Heeled Pump | $48.71
Mango Hammered Bangle | $14.99
Necessary Objects Stretch Cuffed Short | $14.99
[divider]
Photo Credit: Olivia Palermo (Charles Eshelman/FilmMagic)