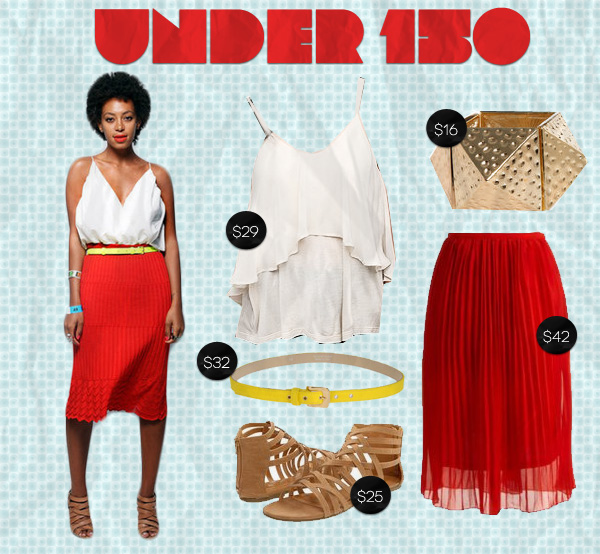 If you had mentioned the name Solange Knowles two years ago, most would associate it with her older sister Beyonce's accomplishments.
Since breaking out on the music scene at the age of 16, Solange has never seen the commercial success her sister has had as a singer/songwriter, and, up to this point, Solange seemed to be still struggling in finding herself in the entertainment industry.
But in the world of fashion, Solange is earning a name for herself as the one to follow.
Having been announced the new face of Rimmel London in 2011, as well as having guest blogged for Vogue's "Today I am Wearing," Solange has sealed her place among the ranks of the fashion elite.
Solange, considered a risk taker in her fashion choices, is a constant among many "best dressed" lists. And when we spotted Solange in this sensational summery look, we were reminded as to why Solange's style is emulated by aspiring fashionistas everywhere.
While Solange may be no pop star diva, she is making her way to fashion icon status. And in our eyes, that matters.
Why We're Obsessed: Everything about this look just works.  From the proportions of Solange's slouchy halter, to the red midi skirt and the pop of yellow, this outfit is an effortless summer "do."
How to Get This Look: If you love this look but don't have the budget to pull it off, try our version, which consists of a Bold Flame Skirt from Modcloth, strappy sandals from C Label Dita-21, a GIOVANNINI MIRCO Belt and a Sparkle & Fade Double Layer Cami. To accessorize, add a bold bangle, like this ASOS Hammered Pyramid Stretch Bracelet.
Total cost to our look: $146.51
Product Links:
Bold Flame Skirt
C Label Dita-21
Giovannini Mirco Belt
ASOS Hammered Pyramid Stretch Bracelet
Sparkle & Fade Double Layer Cami
[divider]
Photo Credit: Solange Knowles (Getty)