From left to right: J. Crew, Anna Sui, J. Crew, Anna Sui
With yesterday's unexpected mix of animal prints, and today's focus on micro x jumbo prints,  it's safe to say that we can't get enough of print mixing.
And we're certainly not the only ones playing with prints – the mixing and matching of prints has been all the rage on the runways for the past few seasons. Thanks to heavy-hitters like J. Crew and Anna Sui, both who have mastered this fashion-forward look, countless designers have taken to combining prints of all shapes and sizes and it seems that this trend is here to stay.
This look can be tricky and can seem overwhelming, especially if you're a newcomer to mixing patterns.
Not feeling completely confident in your mixing and matching skills?
No worries. Just start out by combining the same type of print (think polka dots or stripes) and work from there. If you're mixing and matching different patterns, the key is to keep the prints within the same color family for a look that is cohesive and pulled together.  Follow these basic guidelines and you'll have a blast layering patterns come winter!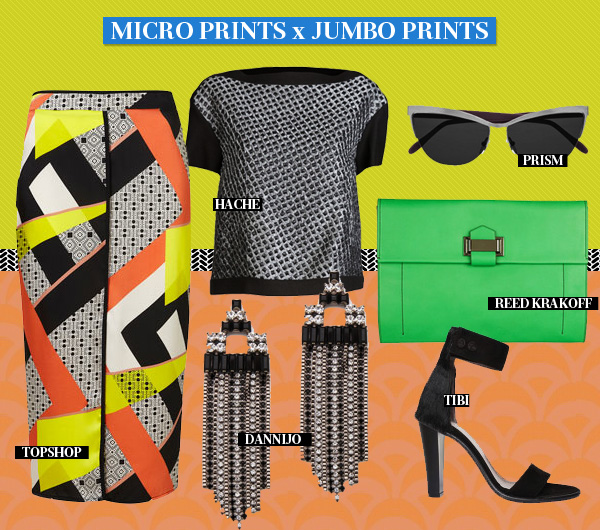 Why it Works: We've chosen Topshop's scarf print skirt as the key piece of this look. At first glance, you'd think the bold graphic pattern and bright colors couldn't be paired with another print. Yet, when paired with Hache's silver and black square print blouse, the effect is striking and beautiful. Rather than being distracting, the blouse ties the whole look together because it compliments the colors of the skirt so perfectly. The smaller pattern also balances the over-sized print of the Topshop skirt.
Sleek accessories are a must for such a bold look. We love Tibi's Barbara heel and Reed Krakoff's Kit clutch for another dose of rich color. You'll need little in the way of jewelry for such a busy outfit.
Dannijo's art-deco inspired earrings add a classy touch without being too overwhelming. Finish this look with Prism's sleek cat-eye sunglasses to add extra wow.
[box title="Shop This Look" color="#000000″]
Prism Berlin cat eye metal and acetate sunglasses
Reed Krakoff Kit leather clutch
Topshop Scarf Print Slip Skirt
[/box]