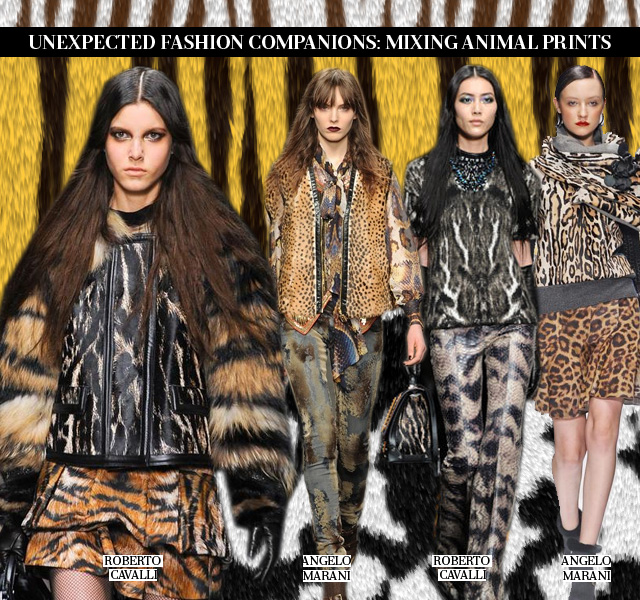 Ever want to unleash your inner animal? Well, now you can by mixing creature inspired prints.
From leopard spots to zebra stripes, animal prints can instantly punch up any outfit. We love that these eye-catching prints never go out of style and that you can revisit these pieces from time to time.
For fall, why not try amping up the wow factor by incorporating more than one animal print into an outfit?
It may seem like a recipe for a fashion disaster, but when done right, the result is bold and luxurious.  Angelo Marani and Roberto Cavalli both mastered the multiple print look in their FW 2012 collections and we're also going wild for the bold look.
Below, we've put together a look that will put you ahead of the style pack.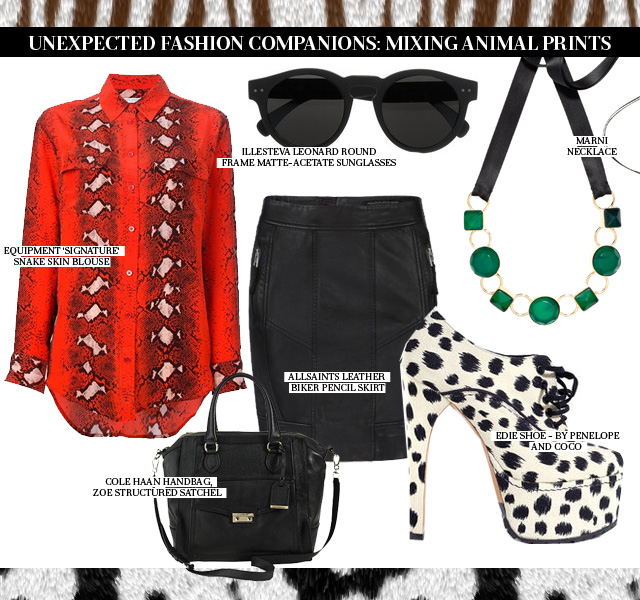 We love Equipment's signature blouse in a bright orange snake print. This ultra-bold piece will be the center of your outfit, so keep this as the focus. An AllSaints' Leather Biker Pencil Skirt will add a feminine and sexy silhouette to this outfit and a structured contrast to the billowy blouse.
Penelope and Coco's Edie shoe in a dalmation print allows you to pile on the animal prints without overwhelming your outfit.
The key is to choose animal prints and color palettes that complement one another. Remember, proportion is key – avoid pairing oversized prints with another oversized print.  Balance small and large prints together.
Marni's resin stone necklace adds a little extra color and works perfectly with Cole Haan's Zoe satchel.
[box title="Shop This Look" color="#333333″]
Equipment 'Signature' snake skin blouse
AllSaints Leather Biker Pencil Skirt
Edie Shoe – by Penelope and Coco
Illesteva Leonard round-frame matte-acetate sunglasses
Cole Haan Handbag, Zoe Structured Satchel
[/box]