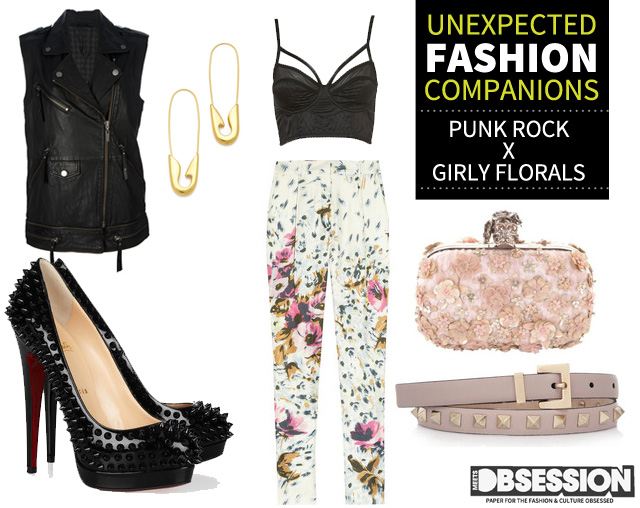 When it comes to making a statement, do you prefer the feminine allure of floral prints or the tough-as-nails vibe of punk rock?
We admit that we're drawn to both for very different reasons. We especially love the dreamy florals Dolce & Gabanna present season after season. Florals are usually showcased in ultra-feminine silhouettes, so we thought mixing them up with tougher elements would be an adventurous departure.
You can combine florals with a Vivienne Westwood-esque nod to London's punk aesthetic for a look that is both edgy and feminine. Though, mixing floral elements with tough hardware is a delicate balancing act–but, don't worry,  we'll show you how easy (and fun) it is to walk the fine line between dainty and gritty.
Why it works: Malene Birger's Regal silk printed pants are on trend and provide the floral motif for this look.  Sure, you could pair these pants with floaty separates, but why not offer up a tough and ladylike look instead?
Topshop's quilted harness bralet has great detailing and when paired with Karl by Karl Lagerfeld's leather gilet, the effect is edgy and slightly vampy.  You'll need loads of spike and studs to add tough-as-nails punk rock allure to this look.
Christian Louboutin's spiked leather pumps and Valentino's studded leather belt, let you achieve this without sacrificing style. Leave it to Alexander McQueen to embellish his signature box clutch with embroidered flowers AND skulls. Complete your outfit with a cheeky nod to the DIY safety pins as jewelry courtesy of Tom Binns.
[box title="Get This Look" color="#333333″]
By Malene Birger Regal floral-print silk pants
Alexander McQueen Flower embroidered clutch
Valentino Studded leather belt
Christian Louboutin Alti 160 spiked patent-leather pumps