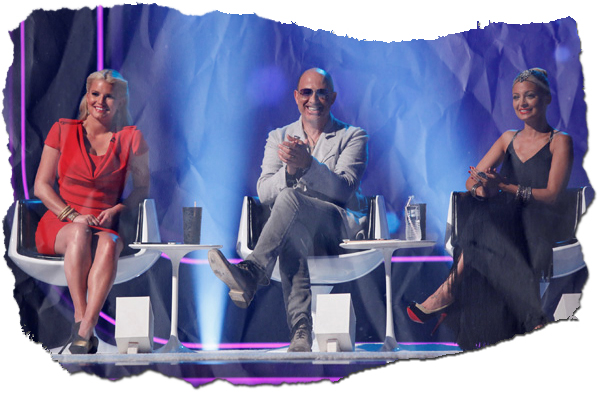 NBC's Fashion Star's What's Your Story" Episode 101 — Pictured: (l-r) Jessica Simpson, John Varvatos, Nicole Richie — (Photo by: Tyler Golden/NBC)
[divider]
With the popularity of reality television at an all time high, NBC's "Fashion Star" hit the television screens across America on Tuesday.
The premise of the show is as follows: designers compete against each other on a weekly basis and are given a challenge to create a specific piece three ways. They then receive critiques from the shows mentors and mass retailers then have the opportunity to buy their pieces and make them available immediately to the public.
This concept is a reflection of today's throwaway society, and the fact that fast-fashion retailer H&M is one of the buyers is fitting.
[divider]
FASHION STAR — "What's Your Story" Episode 101 — Pictured: Model — (Photo by: Tyler Golden/NBC)
However, do we really need a show that taps into our rampant consumerism?  None of the so called designers showcased innovative designs and lacked originality.
Some of them didn't even possess the basic technique of tailoring clothes properly.  Out of all of the independent, talented designers still under the radar, these are the people that NBC chose to make into a potential star?
One of the mentors on the show includes Jessica Simpson, who has lent her name to a successful multimillion-dollar namesake brand.
There is no denying that she—or one of her many handlers—is a savvy business woman, but does this make her an expert in fashion?
She has no formal training in design, and instead is one of the countless celebrities who have decided to delve into the fashion industry.
It will be interesting to see how "Fashion Star" fairs in the reality show landscape and what impact, if any, it will have on the fashion industry.
If its purpose is to make someone a star with staying power in today's very fickle society, there is a lot of work to be done.