"A year ago, I was in the waiting room at an Emergency Room in San Francisco. I was waiting for my then girlfriend and out of nowhere this kinda pseudo-gospel song came to me and I immediately just started humming it over and over and typing the words as they came into my phone.
By the time I was done, I'd been sitting there for four hours. I walked in with a sick girlfriend and left with a new song… and her of course. It's when songs come together in unexpected situations like that— that I appreciate most."
-Eli Pearl (Lead Singer and Guitarist of The Brixtones)
It's a beautifully prevailing thing to feel inspired by the past and dually captivated by the present. This is the power of true music and this is what musician Eli Pearl feels every time he picks up a guitar or listens to a record.
For Pearl, it has always been about the music. Ever since he was a little boy rebelling against those creativity-killers in the classroom of his French immersion school, music tempered his angst and set his emotions into creative motion.
"I was getting kicked out of class or sent to the principal's office pretty much every day—if not multiple times a day, and she (my nanny at the time) would have to come and pick me up." Pearl explained to Meets Obsession magazine. "At the time, she was dating a guy who played bass in a lot of respected metal groups around Los Angeles…we ended up at a garage-turned-studio and walked in mid take, and I just remember having my mouth wide open.."
And that was the beginning of the end for Pearl.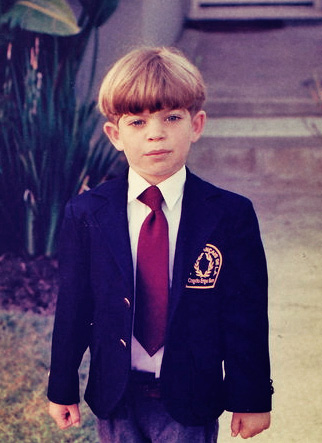 "When she dropped me home, she tried to convince my mom to get me a guitar and later that week, when she picked me up, there in the backseat was that guitar, I still have it."
From that moment on, Pearl has consumed his life in creating music, "[learning] to invite the songs as they come" to him through different situations and strategies.
Sometimes in rebellion, there is truth and expression. And sometimes, with the proper instrument, an artist can harness his or her rebellion and can change the world—or at least change your world.
Pearl grew up in Los Angeles and was taking over the Sunset Strip as the lead singer of his band Slippery Velvet by age 13.
Even at 13, Pearl was experimenting with sewing his own clothes, piecing together fashion staples of the 60s and 70s in his own distinct way.
Inspired by the Stones, the Kinks, and Buck Owens to name a few, he discovered the art of performance and songwriting before he was old enough to shave, possessing an organic command of personality, fashion sense, and playing way beyond his years.
Pearl explains, "the largest comet to smack into my consciousness and open me up to a whole new level of songwriting has to be Harry Nilsson, not only was he a king among his fellow songwriters, but he was not afraid of utilizing humor in a clever and honest way, which is something that I believe has been lost or that people are scared of using."
And this is exactly what Pearl's music has always been about—using his humor, spontaneity, and fearlessness to unite and stimulate individuals on a profound level.
While touring the U.S. as a steel guitarist for the group, The Driftwood Singers and American rock band Maxim Ludwig & The Santa Fe Seven, Pearl consistently crafted his own sound and signature.
Now, older (an ancient 22) and wiser, he is set to "reinvigorate this cultural wasteland" through his new project entitled The Brixtones.
Partnered with British bell-bottom wearing bassist Harley Hill, the band combines a captivating folk nostalgia with an innovative push towards rock revolution.
And when we asked Pearl about his personal relationship with music and if he thought music could save the world, Pearl responded with certainty, "do I think music can save the world as a whole? No. Do I think music can save an individual person? Definitely."
I'm tempted to agree with Pearl. We can all individually be saved by music- if only we open our hearts and souls enough to hear its healing harmonies.
The Brixtones are in the process of playing club venues in and around Los Angeles. Their next show is on Monday July 23 at The Mint in Los Angeles, CA. Click here for tickets.