To many people, the start of summer is the highlight of June. But for the LGBTQ community, it's the month of Pride—a weekend-long extravaganza consisting of a parades, festivals and parties. Most major US cities, and even some minor cities, devote one weekend of the summer to Queer Pride.
Today, Pride is often compared to Gay Christmas, or a queer Halloween. One DJ in DC insisted that Pride is the Gay New Years. However you slice it, to many, Pride is a holiday, and like all holidays, there's a history.
One night in June 1969, the police conducted their routine raid on Greenwich Village's Stonewall Inn. As was common practice at the time, they began harassing the patrons—many of whom were transgender, gay men and lesbians—some were forced outside the bar into the awaiting paddy wagons. It's unclear, and often debated, about what caused this night to be different from the others, but this time the LGBTQ crowd fought back.
Beer cans, bricks, and even a high heel or two were thrown. As shouts of "Gay Power" rang out, an array of the surrounding LGBTQ working-class community—black, white, and Latino—rushed to the bar offering assistance. By now the police had received backup from the Tactical Patrol Force (TPF).
By the end of the night, a teenager lost two fingers, several people were sent to the hospital, four cops were injured, and 13 people were arrested.  But the protests continued for five days, each time growing in numbers. Fliers and chants were made demanding: "Get the Mafia and cops out of gay bars!" What is now known as the Stonewall Riots was the final spark to set off the gay rights movement.
While this was not the first uproar from the LGBTQ community, it was the first of its magnitude and the one that gained significant media attention. People were fed up with living their lives in secret and fear.
"In the fifties and sixties we had to use code words, wear the right clothes, there was even a gay language," Peggy Shaw a New York based performer and co-founder of Split Britches and WOW Cafe explained to Meets Obsession. "It either made you or broke you. In fact, many of my friends were 'found out' and put in mental hospitals."
Shaw, who was from a working class family, notes that when she was young,  there was an "inaccessibility to positive lesbian images."
Today, lesbian and queer youth don't have to look too hard to find role models with all types of gender expression (via the internet), but in Shaw's time, "there was only the choice of butch and femme to identify yourself," she explains. "In order to be a lesbian back then I found I had to flip myself into the image of a man on TV in order to kiss a woman."
After Stonewall, however, things started to drastically change. That July, a group of queers started the Gay Liberation Front, and over the next year, multiple other countries followed suit. More groups formed, often times because sexism, racism, or both arose.
"In the seventies, I was not only queer but also a woman," says Shaw referring to the sexism she faced. Around this time, she joined Hot Peaches, a street drag group, consisting of "boys and girls dragging it up together. It was about cabaret and making ourselves known as queer; a revolution." Hot Peaches went on to tour Europe as the first gay tour. Eventually Shaw left Hot Peaches and in 1977 she went on to form New York's WOW Café and another performance troupe, Split Britches, with Lois Weaver, both of which are still around today.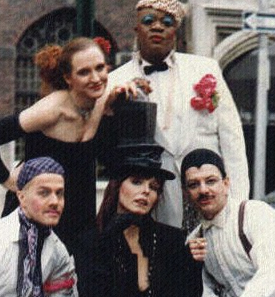 "With Split Britches, Lois and I always considered ourselves performers first, and always lesbians," says Shaw. "I have put all my energy into making sure the void that is Lesbians in History is filled with as many books and shows as possible."
In the last decade alone, we've witnessed some great leaps forward in the gay rights movement—the Mathew Shepard Act was passed, protecting gays and trans people from hate crimes. Multiple states have passed gay marriage, though others have tried even harder to make that impossible. Obama finally repealed "Don't Ask Don't Tell," and some states have even required that schools add in a section for gay history.
But queer battles are often fought separately. Disconnecting the LGBTQ into single letters, and also by race, causes gaps and tension throughout the community. Shaw says the media can be held accountable for this.
However, Kerry Lux Eleveld, a freelance writer and former White House correspondent for The Advocate, tell Meets Obsession that "labels never sufficiently capture the uniqueness of the individuals who compose a group of people." Eleveld adds, "labels inherently dilute and compromise those qualities that make us who we are. They necessitate individuation to some extent. Yet, we draw strength in numbers so we also benefit by uniting, especially since we're such a small and sometimes invisible minority. So both are necessary. We must affect a mass mentality in order to stage a movement, but our basic desire to be seen requires that we individuate under the umbrella of that movement."
Eleveld, who's been a journalist for 15 years now—six of which have been spent covering queer issues and politics—has witnessed first-hand how laws impact the lives of everyday people. In her opinion, the biggest challenges currently facing LGBTQ rights is a toss-up between employment discrimination and relationship recognition, at least from a legal standpoint.
"The lack of employment protections for LGBs and especially trans Americans is impacting people and their livelihoods and their basic human dignity every day,"says Eleveld. "Same goes for same-sex spouses and the fact that they're still deemed legal strangers to each other under most states and federal law. For bi-national couples, in particular, this is a horrific injustice with potentially tragic consequences."
But as Shaw points out, "on a daily basis, women, people of color, and queers are still confronted with endless hatred. While we have changed inside and have grown to love ourselves and have a community to help, it's a never-ending battle."
Though as Dan Savage said: it does get better.
"We are witnessing an extraordinary moment in the history of this movement," says Eleveld. "We're incredibly fortunate to live in these hopeful times when equality and freedom from discrimination seem possible. And that possibility — that sense that goodness is around corner– is an absolute gift given the realities that those who came before us faced."
Where do we go from here? Up.

[divider]
Timeline photo credits: (May 9, 2012) President Obama, ABC News,  (Sept. 20, 2011) President Obama signs the Don't Ask, Don't Tell Repeal Act of 2010 into law in Washington. Official White House photo by Pete Souza. (October 2, 2009)  Barack Obama greeting Louvon Harris (left), Betty Byrd Boatner (right), and Judy Shepard (centre) following the enactment of the Matthew Shepard and James Byrd, Jr. Hate Crimes Prevention Act.  Official White House Photo by Pete Souza . (June 2002) Courtesy of Trans March,  (1993) Helen Lang at the First NYC Dyke March, June 26, 1993. Carolina Kroon.  (1990), Rabbi Denise Eger, the openly lesbian president of the Board of Rabbis of Southern California and Rabbi for Congregation Kol Ami in West Hollywood.