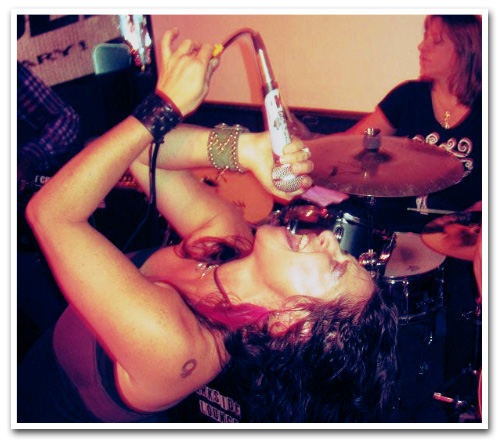 Photo: Courtesy of Girls Rock & Girls Rule
Last month, the New York-based Girls Rock & Girls Rule celebrated 10 years of highlighting women who play rock music. The event—an anniversary concert at Manhattan's Parkside Lounge—was free to all.
NY local Gail Silverman started Girls Rock & Girls Rule in 2002. "I was playing in a rock/punk band G-Spot, and we were on the heavier side of rock music," Silverman told Meets Obsession. However, most of the venues for girls playing music were focused around the singer-song-writer type. "It would always be this really strange transition from a girl with an acoustic guitar to us."
That's when Silverman decided to create a place to highlight women in music with a "heavier" sound. She approached the managers of Meow Mix, a now extinct lesbian bar in Manhattan, and put together a show with four other women rock bands. "It became a yearly event for four or five years, ranging from all different types of music. And we always donated the money we made to local organizations."
In 2006, Silverman quit her day job, traveled to Africa and returned ready to take Girls Rock & Girls Rule on tour.  "At first we put together several travel shows, taking two other bands on the road with us, and then we would ask local bands to play in each city," says Silverman. "But I was doing everything: the PR, the booking. I needed help and luckily three women approached me for just that."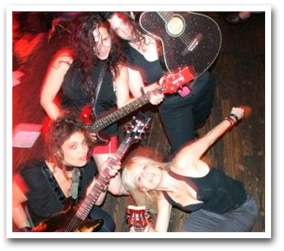 Photo: Courtesy of Girls Rock & Girls Rule
Michele Jaffe of Loki the Grump; Rew, currently of the Rewd Ones; and Marisa Torrieri, a journalist and also a member of Marisa and the Underage Hotties; joined up with Silverman. Together they toured the east coast extensively for the next two years.
"We had some amazing bands," says Silverman. "Women playing drums, playing bass, wailing on guitar. We wanted to give women playing instruments exposure and press. We love girls who play instruments."
After summer of 2008, the group downsized. "Since then we've done less shows but we built a new website that we want to keep running," explains Silverman about the current status of GRGR. "Now we're trying to figure out how to sustain the site, and grow it and maybe even be able to pay the people working on it."
Silverman, who relocated to Florida a year ago, would also like to bring GRGR to her new home base in Sarasota as well as set up a Girls Rock camp. GRGR has worked closely with New York's Willie Mae Rock Camp for Girls, a non-profit summer camp serving girls 8-18 (DC has its own version Girls Rock! DC). "Now it just comes down to funding," says Silverman.
Jaffe, Rew, and Torrieri are also still involved with GRGR, and were all in attendance at the anniversary show, at which the four core bands played, as well as two others.
In fact, one of the female musicians at the showcase had been a previous camper and then counselor at Willie Mae. "It was a really uplifting show," says Silverman. "The kind that makes you want to keep going."
Today, the main focus of Girl Rock & Girls Rule is to keep the site active in order to promote other bands, "even if we're not playing as much," says Silverman. "We want to continue to give recognition to girls making rock music."
Silverman encourages women in this field to get online and contact GRGR. They offer a monthly newsletter, and resources for "lady rockers and their fans."