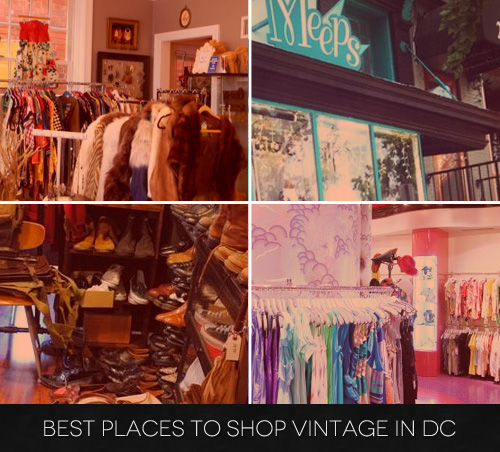 There's more to the fashion scene here in the District than meets the eye.
In fact, this city is surprisingly filled with some fabulous finds, including a good selection of those sometimes-elusive vintage stores.
Finding the best place to shop for vintage apparel in the District can be a task, and if you step into the wrong store, more often than not, you"ll find more trash than treasure.
For you vintage vixens, we put together a list of our favorite local vintage haunts.
So, this Sunday, why not have brunch with your friends and spend your day visiting some of our favorite shops.  You'll be glad you did.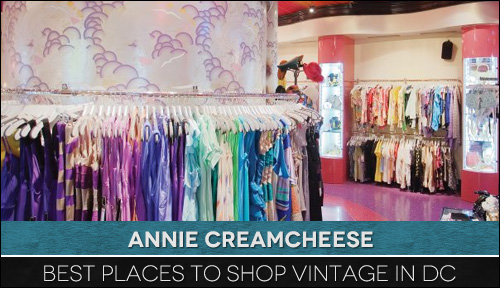 Located in the heart of Georgetown, Annie Creamcheese is a below street-level store that never fails to impress.
The racks are constantly filled with clothing from different eras—including a few new pieces—while the counters are adorned with everything from vintage jewelry to fun, plastic earrings for only $8 (the same price as H&M, and often cheaper than Claires).
It's a great alternative to Georgetown shopping, especially if you're looking for an out-on-the-town, not to mention one-of-a-kind, kinda dress. They also have a huge collection of sunglasses, some vintage,  some just plain cool (or bizarre).
Perhaps this is why celebrities such as Victoria Beckham, the Kardashian sisters, and Betsey Johnson all get their vintage on at Annie Creamcheese..
Annie Lee opened the "flagship" store in 2004 (five years later a sister location was opened in Las Vegas, but is now moving to Los Angeles), giving M Street a small but crucial slice of "individuality" in a neighborhood filled with Vineyard Vines and Banana Republic.
Find it across from Dean and DeLuca at 3279 M Street, NW. Open daily (Monday to Saturday 11-8pm, Sunday 12-6).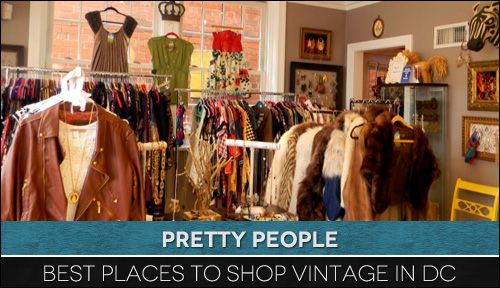 Coincidentally, the woman who brought fashionable vintage to Georgetown is also responsible for the second store on this list.
Lee, who is currently the creative director and head buyer of Pretty People, opened the Old Town Alexandria shop just last March. In the past 11 months, Washingtonian Magazine awarded the store "Best Women's Vintage, 2011,"  and the store was also voted "Best of Old Town."
The shop is divided up into several rooms, giving it a quaint, maze-like quality filled with beautiful clothes documenting different eras from the 1940s through the shoulder pads of the 80s.
"I like the décor because it matches the clothing—quirky, funky stuff—without being tacky," one Monday afternoon shopper told Meets Obsession. "There's a really thin line between cool and tacky, and they nailed it."
The store also buys vintage, but check the website before bringing just anything in. They have guidelines.
Pretty People is located at 108 N. Patrick St., in Old Town Alexandria. They're open 7 days a week (Monday to Saturday 11-7pm, Sunday 12-5pm), but leave the boys behind. There's nothing in there for them.
On U Street, is a gem of different color. Unlike Annie Creamcheese and Pretty People, this space feels cramped and somewhat dusty.
In fact, the store that opened in fall of 2010 was almost left off this list until one shopper pointed out why it was worth including:
"Dr. K's has a really large selection of menswear," says Sarah Wassel. "Most vintage stores seem to focus on women's stuff, but this one even has men's accessories, like cufflinks." Wassel also pointed out that the store was well stocked with unique shoes and even vintage luggage pieces.  "Besides, I liked that it was kind of cramped and musty—it felt like I was shopping in a real vintage store."
Located at 1534 U Street, NW, Dr. K's does not currently have a website, and according to their Facebook page, the shop  is "usually" open every day from 12-9, but they suggest calling first, just to make sure.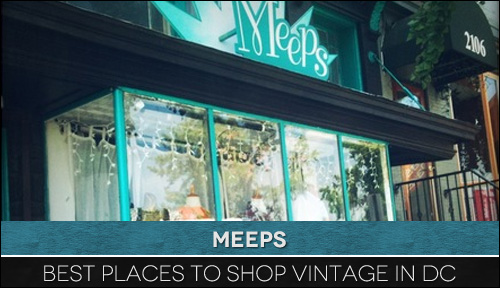 Meeps is the oldest running shop on the list, but ownership has changed hands several times.
Currently, Danni Sharkey and Leann Trowbridge own the decade old store.
According to their website, the two owners "scour the mid-Atlantic region and beyond" to find "unusual and evocative vintage clothing and accessories." And the results speak for themselves as soon as one walks inside.
The brightly lit, cute store has been featured in Lucky Magazine, as well as on NBC's DC Scene. It has both men's and women's apparel (and sometimes kids stuff, too), and the goal of the buyers is to find "wearable" vintage that goes with today's fashion.
Meeps also features handmade fashion and jewelry created and re-worked by local designers.
The Adams Morgan shop is found at 2104 18th Street, NW and is open seven days a week (Monday to Saturday 12-7pm, Sunday 12-5pm).