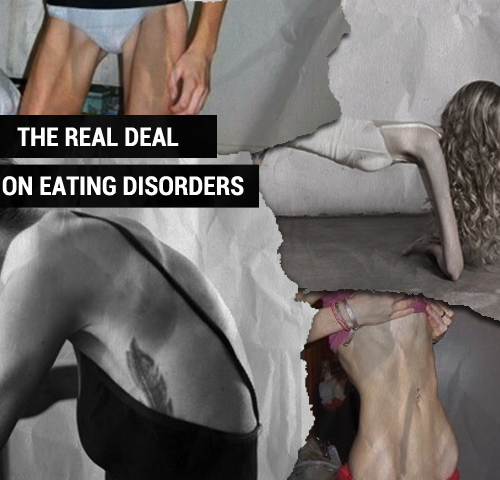 A compilation of images posted by "thinspo" blogs for inspiration
Girls want to be skinny. Boys want to be muscular. It's a long-running American tradition that, even as young children, we all obsess about our bodies.
But at what point does the obsession become extreme?
At the "It's Our Turn" conference held in February at Los Angeles' Brentwood High School, Lady Gaga reportedly opened up about her experience with bulimia as a teenager.
According to the Huffington Post, the pop diva admitted to throwing up all the time in high school, revealing, "I'm not that confident. I wanted to be a skinny little ballerina, but I was a voluptuous little Italian girl whose dad had meatballs on the table every night."
While she urged the girl in the audience (who brought up the topic of body image) to seek help for her own weight issues, Lady Gaga said, "weight is still a struggle. Every video I'm in, every magazine cover—they make you perfect. It's not real life."
But that "perfection" is what many young girls (and boys) crave.
Back in the early days of the internet, hundreds of "pro-ana" (short for pro-anorexia) sites were started with the goal of coaching and sharing tips on how to lose weight and stave hunger.
According to the Huffington Post, in 2001, Yahoo! removed "115 sites citing violations of the company's terms of service."
One thinspo blogger posts photos to
tumblr to"encourage"other followers


___________________________



Today, these same types of blogs can be found most readily available on Tumblr, under the new name "thinspo" (thin inspiration).
The girls on Thinspo blogs post pictures of tiny actresses and models—often times highlighting the visible bones or thighs that don't touch.
Many of the users keep track of their (dangerously low) daily calorie intake on their home page. Their site URLS demonstrate the level of their obsession with page names such as "Hooked to Hospital Machines," "The Journey to Paper Thin" and "Vegan-Orexic."
But all this would have the general public pointing the blame at pop culture.
In fact, in March of 2010, Lady Gaga herself—at the beginning of her stardom— told New York Magazine in an interview, that "Pop stars should not eat."
And anyone who watched the Oscars this year should be contemplating the last time Angelina Jolie ate a full meal.
But according to Samantha Zylstra, a Marriage Family Therapist in San Francisco—who holds a specialty in treating eating disorders—actresses like Jolie and the media are not the only contributing factor to anorexia or bulimia.
"Research is showing that the people who struggle with eating disorders have many similar traits in their brains," says Zylstra. "Brain function, personality, family or origin, biological traits and the media are all contributing factors in creating an eating disorder.  One factor is not a determining factor."
Meanwhile, eating disorders are so often considered a "girls" disease so much that men are frequently overlooked.
 Special MSNBC segment on males and anorexia.


___________________________
"The Daily Nightly" on MSNBC recently reported that roughly one million males in the U.S. —between the ages of 12 and 25—suffer from eating disorders.
It's speculated that men may, in fact, be at a higher risk of suffering serious effects from eating disorders because it often takes them longer to seek help. "There is a huge need for more public awareness about men struggling with eating disorders so that they too can get treatment," says Zylstra.
What's possibly the most worrisome, is the dichotomy of "health" in America today.
Models, and actresses are thinner than ever (according to DoSomething.org "twenty years ago, models weighed 8% less than the average woman. Today, they weigh 23% less").
Meanwhile, "American children are, on average, 15 pounds heavier now than they were 20 years ago," says Zylstra. Yet, "there are more reported incidents, as far as eating disorders are concerned, and anorexia remains the mental illness with the highest death rate. I would say as a whole, we are not getting healthier."
As Americans, we are taught to glamorize thin, muscular bodies and rich/fast food, and sometimes figuring out how to be healthy is difficult.
But there's nothing sexy about starving yourself. "Eating disorders are very dangerous," says Zylstra. "Anorexia does claim more lives than any other mental illness," and recovery—if left untreated for too long—can take up to seven years.
Zylstra stresses how important more public awareness is and also points out that "getting treatment as soon as possible" can make a huge difference.
Zylstra recommends "finding a therapist whom the client trusts and feels safe with and who is very familiar with eating disorders."
As Lady Gaga summed up to Maria Shriver at "It's Our Turn," "I'm gonna say this about girls: The dieting has got to stop. Everyone just knock it off. Because at the end of the day, it's affecting kids your age — and its making girls (and boys) sick."