Crazy people and beauty products: These are a few of my favorite things. And both merge beautifully in Dr. Bronner's Magic Soapbox, a documentary about eccentric soap master Emanuel Bronner.
I was thrilled when I discovered that this movie, which had a very limited release in 2007, was streaming on Netflix. It was the perfect time-passer while I tested a new at-home tooth whitening system and indulged in my favorite facemask. ("Who are you to call this guy crazy?" My husband noted when he arrived home and saw me on the sofa. "You're the one covered in green clay, with a big bite plate in your mouth.")
Good point, my love.
Anyway, back to Dr. Bronner. The former chemist—and escaped mental patient— gained a cult following in the 1960s with his all-natural, vegetable-oil based soap. The peppermint infused, multi-functional formula became a counterculture favorite, as did the brand's rant-tastic blue-and-white labels. To this day, each bottle is still emblazoned with Bronner's pleas for peace, love and protection of "Spaceship Earth" (otherwise know as our planet).
To say that this man was quirky would be an understatement. I always assumed that some kind of madman—albeit a genius one—was behind this brand. I mean, what other kind of mind would mix rambling moral messages ("Teach friend and enemy the moral ABC that unites all mankind free in our Eternal Father's great All-One-God Faith") with how-to tips for best use ("Lather up, scrub down, rinse off, and tingle fresh and clean")?
But it wasn't until I saw this movie—and was given an inside look at Dr. Bronner's bizarre brain—that I realized the full magnitude of his mad-scientist approach to social enlightenment. And the effect it had on his children, who grew up second fiddle to their father's unrelenting activism.
Regardless, you have to hand it to Bronner (and his neglected sons, who nonetheless took over for their dad) for creating a company so socially and ecologically sound.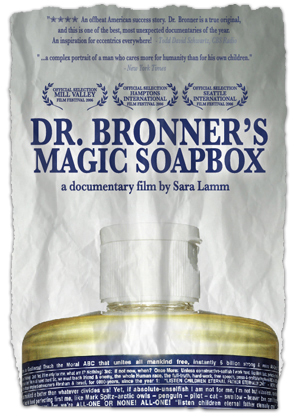 Today, all of Dr. Bronner's Magic All-One products are 100% natural, fair trade and USDA certified. They are never tested on animals and their bottles are made from 100% post-consumer recycled plastic. The business participates in profit sharing plans for its employees and—get this—the total compensation for all upper echelon executives is capped at five times that of their lowest-paid worker. (Um, excuse me a second while I go work on my resume.)
Personally, I've always liked the classic peppermint soap for its tingling sensation, as well as the lotion and lip balm, which produces a similar effect. And I'm totally loyal to Bronner's Organic Lavender Hand Sanitizing Spray, which is effective but not at all overpowering, and clearly chemical free. Plus, the scent is super soothing.
Dr. Bronner's Magic Soapbox is as entertaining—and offbeat—as the man the movie profiles, and I think any fan would find it interesting. It's also a wonderful reminder that socially conscious business models can still exist—and turn a tidy profit—in today's competitive and cutthroat market.
If you've never given these ethically sourced soaps a try, I'd encourage you to do so. They smell great, get you squeaky clean and leave next to no negative impact on the Earth.
So what if a total whack-a-doo invented them?
---

Susan is a freelance writer, born and raised in NYC and currently based in Brooklyn. She's the senior beauty editor for Meets Obsession, and also writes for online publications such as Mamasarollingstone.com, TueNight.com.
and The Huffington Post. Susan had a serious candle hoarding issue that she has no plans to address. She's currently obsessed with Marc Jacobs' new beauty line, her black Zara moto jacket, and Aaron Paul.
All author posts