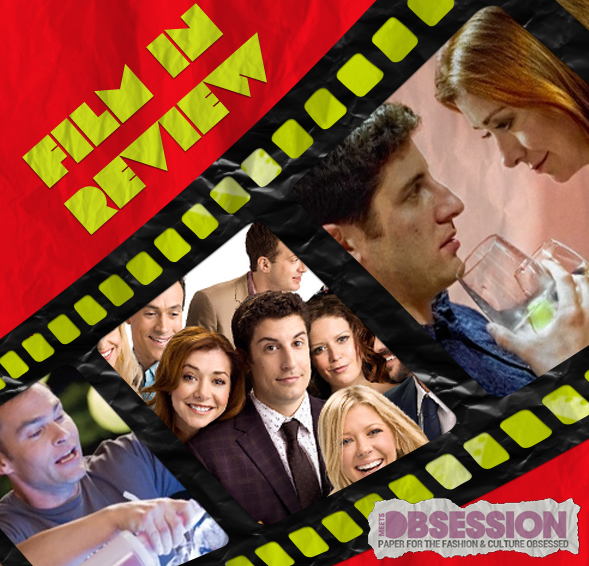 In the summer of 1999 "American Pie" premiered and marked a sort-of resurgence of the gross-out, sex-heavy raunchy teen comedies popularized in the '80's by such classics as "Porky's" and "Revenge of the Nerds."  Like its predecessors, "American Pie" captured the angst of being a sexually frustrated teenage male on the quest for fornication in high school.
But here's the thing about "American Pie":  it's actually a pretty solid movie that makes up for its many shortcomings by having a genuine layer of sweetness to it.
Yet, two sequels  later and a gaggle of straight-to-DVD knock-offs bearing the same name, it's pretty easy to forget how significant that first film was.
Now, 13 years later we have "American Reunion," a film that's about reliving the glory days of the first film.
Written and directed by Jon Hurwitz and Hayden Schlossberg, "American Reunion" brings all the original cast members back to East Great Falls to celebrate their 12th high school reunion—and yes, they recognize the oddness of a 12th year reunion in a brief throwaway line—and see where life has taken them in all the years passed since high school.
Jim and Michelle (Jason Biggs, Alyson Hannigan) are all grown up with a son and a sexless marriage, Kevin (Thomas Ian Nicholas) is a house-husband who still has feelings for his high school sweetheart Vicky (Tara Reid), Oz (Chris Klein) is a sports anchor dating a vapid celebutant who has a career in appearing on  "Dancing With The Stars" type shows, Finch (Eddie Kaye Thomas) is, as always, living a life less grand than appears, and Stifler (Sean William Scott) is still the same air-headed jerk full of false bravado, sadly clinging to his high school memories.
The biggest problem with "American Reunion" is the overstuffed plot—from Jim having the hots for his 18-year-old neighbor that he used to babysit, to Oz's reunion of love with Heather (Mena Suvari), and Jim's dad (Eugene Levy, who just can't say no to anything associated with this franchise) looking for love again after losing his wife—it's simply packed with too many stories that distract from what the film is really about: reliving the past.
"American Reunion" is filled with many recollections and winks to the first film, while simultaneously being about a group of adults coming to terms with the fact that they're not those same kids anymore. Despite how their lives may not have turned out exactly the way they thought, they have to let the past go and move on.
It's a sweet message well-hidden behind plenty of gross-out gags that are at times funny, other times groan-worthy, but mostly just plain mean-spirited.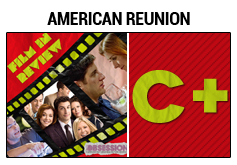 However,  past all of the sophomoric humor that is synonymous with the "American Pie" series, there's a great theme  about letting go and looking towards the future instead of being stuck in the past.
That, along with a few moments of genuinely great humor and expert guest appearances, is what makes the film bearable.
Overall Grade: C+
here for theaters and showtimes.
Tags:
Alyson Hannigan
,
American Pie
,
Chris Klein
,
Eddie Kaye Thomas
,
Eugene Levy
,
Film In Review
,
Hayden Schlossberg
,
Jason Biggs
,
Jon Hurwitz
,
Mena Suvari
,
Sean William Scott
,
Tara Reid
,
Thomas Ian Nicholas