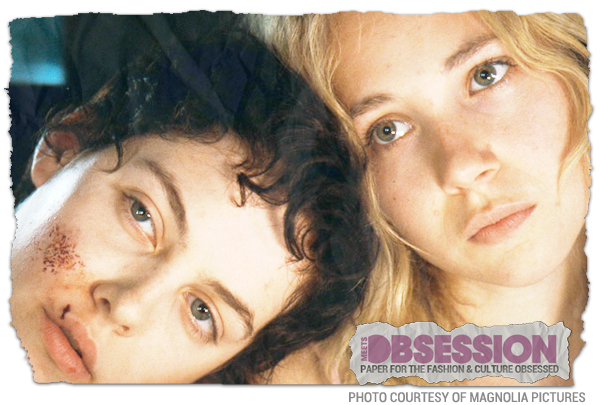 Celeb Sightings: So it turns out Dakota Fanning is actually 18, and a freshman at NYU, which would explain why she's allowed  to see all these sexually explicit indie movies.
This doesn't, however, explain why she liked the abysmal lesbian werewolf love story, "Jack and Diane," but she and Patricia Clarkson (again) were sitting together in my screening and shared some words about it after. Spoiler alert: Patricia Clarkson did not like it. I agree.
On to the reviews:

Fairhaven
Like a blue-collar version of an extended "Entourage" episode, writer/director/star Tom O'Brien's "Fairhaven" is a vastly uninteresting bromance disguised as sentimental art-house musings. Though it's certainly not as disastrous as that sounds, the film drowns in its own mediocrity and cliches so heavily, I found it to be more annoying than if it was a complete train wreck of a movie.
The fact of the matter is that "Fairhaven," which also stars Chris Messina and "Mad Men's" Rich Sommer as three high school buddies reunited after many years, is just so run-of-the-mill and uninspired that it's doomed to fade out of the film festival circuit and our cinematic consciousness and into forgotten Netflix queues everywhere.
O'Brien stars as Jon, a thirty-something struggling writer-turned-fisherman trapped in his hometown that is equally obsessed over a certain Tom Brady quote about being unsatisfied even after three Superbowl wins as he is with his own directionless shortcomings. When Jon's oldest friend Dave (Messina) returns to town after leaving, without so much as a word many years ago, it stirs up old drama among their group of friends.
Dripping in hetero male-bonding over drugs, booze, strippers and prolonged shots of characters reflecting over vibrant New England sunrises/sunsets, "Fairhaven" was one of the most cliche and predictable films that I've seen so far at Tribeca. I'm sure at some point it will get picked up and become available on On Demand and on Netflix, but be forewarned: This film will bore you to tears.
Overall Grade: C

Jack and Diane
Billed as a "lesbian werewolf love story," this was definitely one of my most anticipated of Tribeca, but unfortunately writer/director Bradley Rust Gray's "Jack and Diane" would be better suited as a "disappointing pseudo-werewolf lesbian love story." I am convinced, however, that a good film lies somewhere in the structurally muddled mess of Gray's honest attempt at genre bending.
At its best, "Jack and Diane" plays like a adolescent take on Andrew Haigh's excellent "Weekend," but at its worse, it's something far, far less revelatory: A confusing and failed metaphor.
When disheveled, innocent Diane (Juno Temple), searching for a phone to use, emerges into the record store that tomboy Jack (Riley Keough) works in, it's love at first sight. A few knowing glances and lusting stares later, the pair are off sneaking into a club and eventually spend the night together. Despite protests from Diane's nagging Aunt Linda (Cara Seymour) the couple are inseparable and spend the next few days exploring each other sexually and emotionally. However, problems arise and their relationship is compromised when Jack learns that Diane is leaving for Paris in a few days to go to fashion school.
Plagued with inconspicuous nosebleeds and visions of transforming into some sort of hulking beast, Diane seems uneasy and detached from Jack, but those elements only serve as Gray's attempt to weave horror elements into the story to allegorize the terrors of first love. Unfortunately, these elements only serve to detract from the narrative and confuse audiences.
A passion project of Gray's that's been in development for years (at one point Ellen Page and Olivia Thirlby were attached to star as the titular characters),  Gray's intentions are certainly commendable, but his execution needs some great fine tuning to pull off the sort of grand feat he's aiming for.
Overall Grade: C-
[divider]More Dispatches from Tribeca:
Dispatches From Tribeca: James Franco Outweirds Himself in "Francophrenia," Juliette Binoche Shines in the Otherwise Slacking "Elles"
Dispatches From Tribeca: 'Take This Waltz,' 'As Luck Would Have It' and 'First Winter'
Dispatches From Tribeca: 'Your Sister's Sister,' 'Side by Side,' and 'Chicken With Plums'
---

Matt is currently obsessed with Rap Snacks, post-hardcore, pizza parties, and Carl Sagan's Cosmos.
All author posts