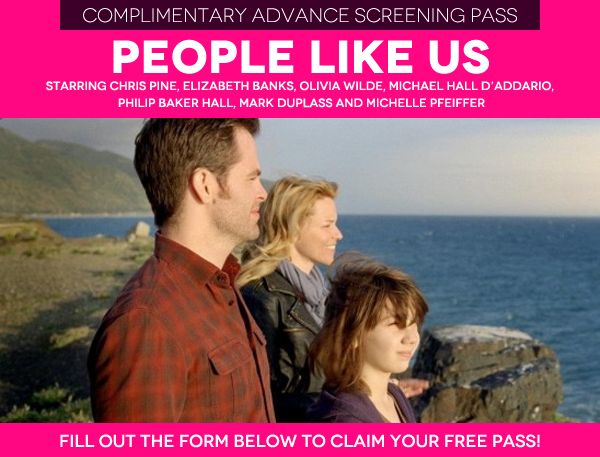 You're invited to a special advance screening of the new film "People Like Us," starring Chris Pine, Elizabeth Banks, Olivia Wilde, Michael Hall D'Addario, Philip Baker Hall, Mark Duplass and Michelle Pfeiffer.
From DreamWorks Pictures comes "People Like Us," a drama/comedy about family, inspired by true events, starring Chris Pine ("Star Trek") as Sam, a twenty-something, fast-talking salesman, whose latest deal collapses on the day he learns that his father has suddenly died.
Against his wishes, Sam is called home, where he must put his father's estate in order and reconnect with his estranged family.
In the course of fulfilling his father's last wishes, Sam uncovers a startling secret that turns his entire world upside down: He has a 30-year-old sister Frankie whom he never knew about (Elizabeth Banks). As their relationship develops, Sam is forced to rethink everything he thought he knew about this family—and re-examine his own life choices in the process.
To reserve your spot to this special screening, simply click the link below to attend the film showing on the evening of Wednesday, May 30 at a movie theater in downtown Silver Spring MD.
Please note, we only have a limited number of seats available, so be sure to reserve your spot before space fills up.
Only one submission per person. This contest is open to residents of D.C., Virginia, and Maryland.  Due to the rating of this film, all qualifying entrants must be 18 years of age or older.
This promotion has ended.