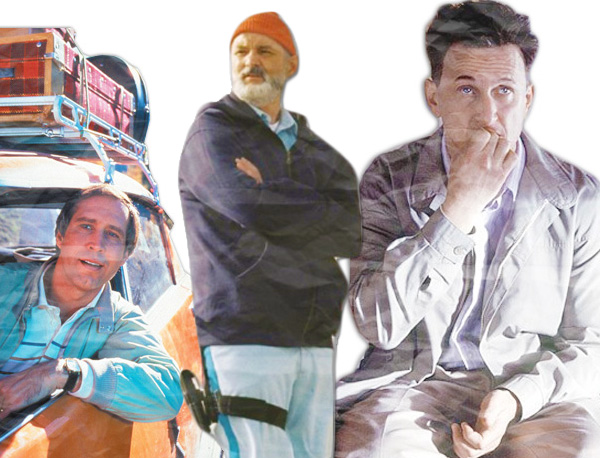 In the spirit of Father's Day, we've journeyed through time to take a look back at a few of our favorite movie dads.
From vacationer Clark Griswald to Sean Penn's Sam Dawson ("I Am Sam"), we remember these cinema fathers, what made them special and their fatherly words of wisdom.
 

Case File #1: The Self-Deprecating Child Abandoner

The Dear 'ol Dad: Steve Zissou

From: "The Life Aquatic with Steve Zissou"

Why we're obsessed: An endearingly self-deprecating marine biologist on a last chance power drive to avenge his best friend's death at the behest of a paper-mache shark. Along the way he meets the man who may or may not be his son, and invites him to join his crew for his suicide mission.

During their adventure, Steve:

– Competes with his "son" for the affection of pregnant journalist.

– Leads his crew to get attacked by pirates,

– Forces his crew to commit numerous felons

– Smokes a ton of weed

– Gets Jeff Goldblum shot in the chest.

Parenting!

Fatherly words of wisdom:

"You never say, 'I'm gonna fight you, Steve.' You just smile and act natural, and then you sucker-punch him."

"You really think it's cool for you to hit the sauce with a bun in the oven?"

Ned: "Why didn't you ever try to contact me?"

Steve: "Because I hate fathers, and I never wanted to be one."

 – Written by Matt Cohen


[divider]

 

Case File #2: The Not-Quite-There Dedicated Dad

The Dear 'ol Dad: Sam Dawson

From: "I Am Sam"

Why We're Obsessed: The sacred relationship between a father and daughter is magnified in "I am Sam," the 2001 drama directed by Jessie Nelson.

The film tells the story of a man, played by Sean Penn, and his overwhelming love for his daughter Lucy, played by the enticingly brilliant young Dakota Fanning.

At the essence of the film — despite its intriguing storyline — exists the magical connection between father and daughter. "I Am Sam" is about unconditional love, absolute acceptance, and learning to live through hardship, loss, and sorrow. The film captures the absolute strength involved in nearly losing the one you love and the strength it takes to hold on even when all seems hopeless.

Fatherly Words of Wisdom:

[On male-pattern baldness]: "Sometimes they're bald because their head is shiny and they don't have hair on it. So their head is just more of their face."

Sam: "You've grown."

Lucy: "Have I?"

Sam: "Yeah, 'cause your ears are bigger and your eyes are older."

– Written by Megan Friend


[divider]

 

Case File #3: The Ruthless Family Vacationer

The Dad: Clark Griswold

From: "National Lampoon's Vacation," "European Vacation," "Christmas Vacation," "Vegas Vacation."

Why We're Obsessed: Armed with with the latest in vacationing accessories and a finely packed Wagon Queen Family Truckster, Clark Griswold is the family man we all deserve.

With his family in tow, he's the guy who lives for the notorious "family road trip" and all that comes with it:

– Family sing-a-longs

– Shameless car-on-car flirting

– Insufferable relatives

– The occasional family death

– Holding an employee at gunpoint just so his family can enjoy the sweet, sweet wonders of Wally World

God bless him.

Fatherly Words of Wisdom:

[On saving money]: " I don't give a frog's fat ass who went through what. We need money! Hey, Russ, wanna look through Aunt Edna's purse? "

[On Christmas]: "When Santa squeezes his fat white ass down that chimney tonight, he's gonna find the jolliest bunch of assholes this side of the nuthouse."

[On the importance family during the holidays]:  "The most enjoying traditions of the season are best enjoyed in the warm embrace of kith and kin. Thith tree is a thymbol of the thpirit of the Griswold family Chrithmath."

– Written by Matt Cohen
[divider]

Other Recommended Dad Films:
"Elizabethtown"
Although Cameron Crowe's 2005 feature film "Elizabethtown" didn't receive widespread praise from critics, there was something very powerful about the film.
The last scene where Orlando Bloom drives cross-country with the ashes of his father, listening to the music that defined their relationship, was the epitome of something truly beautiful.
All the memories, all the heartache, all the distress, all the hatred, and all the love flood back into the mind of Bloom, as he literally takes one last journey with his father. It's a journey of truth. It's a journey of forgiveness. And it's a journey of transition and letting go.
For everyone who has lost a father, or maybe just someone they love, they can relate to the reflective aching of heart, soul, and body that is felt upon such a loss. And more so, any film with Elton John's soul-defining tune, "My Fathers Gun" playing in the background is sure to evoke the most sincere of emotions and reactions.
– Written by Megan Friend