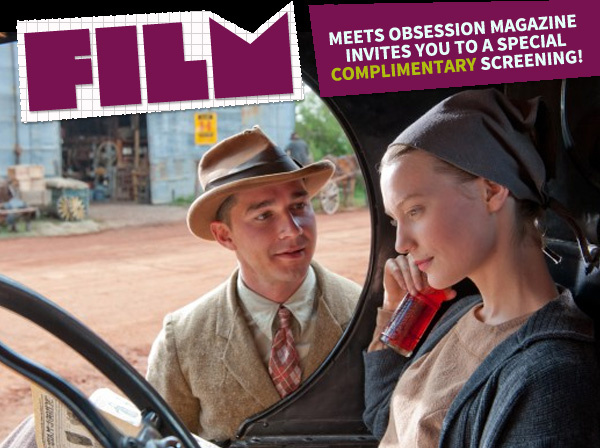 Meets Obsession magazine scored a few extra passes to see the new film "Lawless," and we're giving them away to the first few MO readers that RSVP.
By reserving, you'll have the opportunity to attend a special advance screening of the film "Lawless," which stars Shia LaBeouf, Tom Hardy, Gary Oldman, Jessica Chastain, Mia Wasikowska and Guy Pearce.
Simply enter your information at the link below to retrieve your RSVP code and then go to Gofobo.com to redeem. Seriously. How easy is that?
Synopsis: Acclaimed director John Hillcoat (THE ROAD, THE PROPOSITION) delivers a thrillingly vivid slice of American outlaw history in his epic gangster tale, LAWLESS. LAWLESS is the true story of the infamous Bondurant Brothers: three bootlegging siblings who made a run for the American Dream in Prohibition-era Virginia. Based on author Matt Bondurant's fictionalized account of his family, "The Wettest County in the World," the film gathers an ensemble of gifted, dynamic new-generation stars – Shia LaBeouf, Tom Hardy, Jessica Chastain, Jason Clarke, Mia Wasikowska, Dane DeHaan – alongside two of the finest actors of their generations, Guy Pearce and Gary Oldman. A riveting, intense story of crime and corruption, loyalty and love, brutality and tenderness, LAWLESS is a rich addition to the American gangster canon.
Get RSVP Code
Tags:
Gary Oldman
,
Guy Pearce
,
Jessica Chastain
,
Mia Wasikowska
,
promotion
,
Shia LaBeouf
,
Tom Hardy