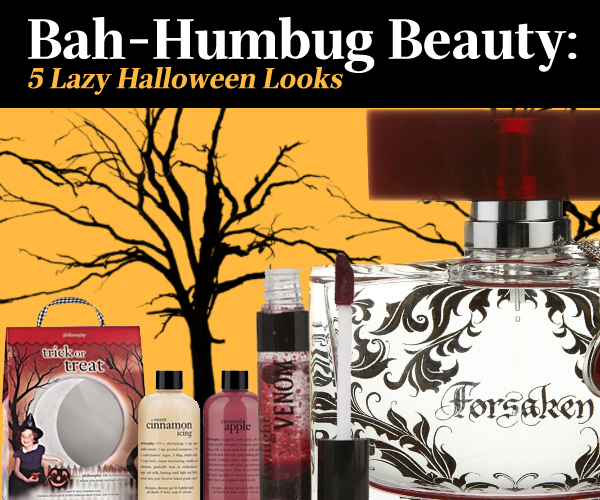 Halloween has always been one of my favorite holidays. But I have to be honest — this year, I'm just not feeling it. Maybe it's because I'm still recovering from an all-too true-to-life zombie attack. Or perhaps it's simply semantics — I'm pretty broke right now and feeling fairly low on creativity.
Still, I can't let the occasion pass without adding something festive to my look.
If you're on the same stick-in-the-mud page (wait, that's a costume idea right there!) as I am, check out these five subtle beauty suggestions.
They all offer easy ways to get into the spooky Halloween spirit without having to expend a lot of energy.

Rebel Nails is currently carrying the most amazing collection of Halloween-themed nail wraps. My favorite is this autumn-hued graveyard design — I love the fabulous fall colors. The company is based in the UK, so you'd have to splurge on overseas shipping fees, but in my opinion, it's worth it.
However, if you want to stick to shopping stateside, try these spider web appliques from Nail Bliss or Sally Hansen Salon Effects's skull and crossbones nail strips.

Fans of the HBO series will love this vampire-chic bottle, which is adorned with black lace and two dangling, blood-red beads. The sexy scent contains notes of blood orange, black plum and patchouli (to name just a few) and is perfect for a naughty night out on the town.
Getting tired of those pumpkin-spice scented lotions and potions? Try replacing them with apple-caramel and cinnamon flavored fare. Philosophy's Trick or Treat set screams Halloween — and makes a great gift for a host if you're headed to a party.
DuWop has taken its signature lip-plumping product to a whole new level with its Twlight themed Venom Lip Stain. Coat your lips a couple of times for a vampy red shade with instant bite.
Give your lashes a subtle shock of Halloween flair with these fun falsies from Claire's. They're easy to apply, perfect for flirting, and the best part is, they're only eight bucks!
Tags:
Halloween